Going above and beyond for World Cancer Day
World Cancer Day 2023
On 4 February we celebrated World Cancer Day 2023.  
World Cancer Day unites people, communities, and entire countries to raise awareness and take meaningful action.
A huge thank you to all our fantastic volunteers for everything you did to recognise World Cancer Day this year – selling unity bands, getting dressed up and telling people about our vital work. It really does all make a difference to speed up progress in life-saving cancer research. 
We recently spoke to a few shop teams across the country to find out more about how they've been celebrating and raising money for World Cancer Day 2023. 
Merthyr Tydfil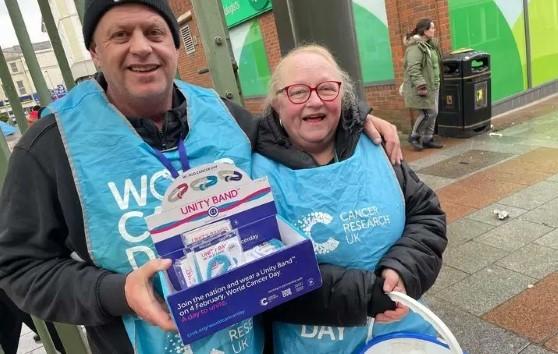 Dedicated volunteers at the Merthyr Tydfil shop have been out and about in the community over the past few weeks carrying out numerous cash collections. Volunteers could be spotted in the town centre, and at the local football club, dressed in blue, buckets in hand and unity bands ready to sell. 
The team have also hosted several fun days to raise money for World Cancer Day 2023 including bake sales and prize draws, and one lovely volunteer even dressed up as Peppa Pig! 
Birmingham Corporation Street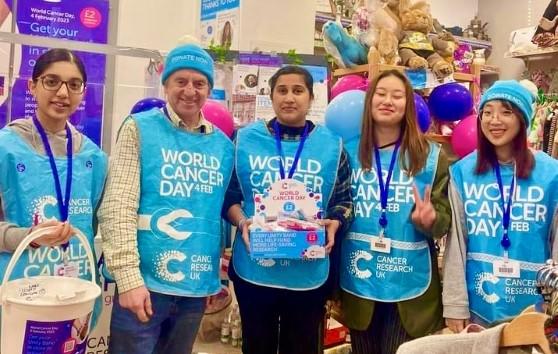 Keen volunteers at the Birmingham Corporation Street Shop have been dressing up over the past few weeks - with their bright outfits and friendly faces, they have been drawing people into the shop at the front door. They also had a successful cash collection at New Street train station and hosted a brilliant tombolo in the shop. The team are also always eager to promote round up in the shop, which has all been going towards World Cancer Day in recent weeks. 
Port Talbot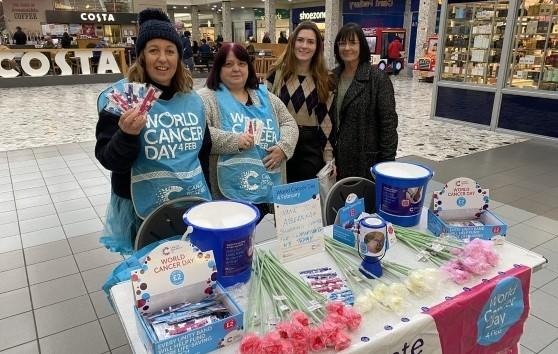 The committed Port Talbot shop team went out into their local shopping centre for a day of cash collecting. The enthusiastic volunteers always get behind promoting and selling unity bands, and are brilliant advocates for Cancer Research UK, explaining how important the money raised from these is to help us beat cancer sooner. 
Cowbridge
The volunteer team at the Cowbridge shop never tire in their enthusiasm! With tutus, wigs, and big smiles, volunteers like Cathy (pictured) encouraged passers-by to stop and donate. 
Share your volunteering story
If you'd be interested in sharing your volunteering experiences with the Volunteering Team, we'd love to hear from you! 
To find out more, please email volunteerstories@cancer.org.uk. 
The Volunteer Hub
The Volunteer Hub is a dedicated area for our volunteers to stay updated and connected with everything to do with volunteering at Cancer Research UK.