A study looking at a new technique that may help to diagnose and remove primary brain tumours more accurately
Please note - this trial is no longer recruiting patients. We hope to add results when they are available.
Cancer type:
Brain (and spinal cord) tumours
This study is looking at a new technique called Raman spectroscopy which uses a laser light during surgery to remove primary brain tumours.
Doctors often treat brain tumours with surgery. They try to remove all of the tumour, or as much of it as possible.
It can sometimes be difficult for doctors to clearly see the border of the brain tumour with their naked eye or with the use of a microscope. This may lead to some of the tumour being left behind, increasing the risk of it growing back again. There is also a risk that some normal brain tissue is removed, causing side effects. Researchers are looking for ways to improve surgery to make it more accurate.
More about this trial
One possible way is to shine a low powered laser light onto the brain tumour during surgery to find out more about the tumour. This is called Raman spectroscopy. This is the first time this technique is being looked at in humans.
The aim of this trial is to find out whether the use of Raman Spectroscopy allows a quicker and more accurate diagnosis and removal of brain tumours. You will not benefit directly from taking part in this study, but the results may help other patients in the future. For example, it may mean that surgeons can take out more of the brain tumour safely while leaving normal brain untouched.
Who can enter
You may be able to join this study if you are a patient at Charing Cross Hospital in London and all of the following apply. You
You cannot join this study if you are having brain surgery as an emergency.
Trial design
This is a pilot study. The researchers need 40 people to join.
You have your brain surgery as planned. During your operation the surgeon shines a weak laser light onto the tumour (the Raman spectroscopy) This takes a few seconds and provides certain information about the tumour. The rest of your surgery will carry on as normal.
After your operation, the tumour removed during surgery is looked at by an expert called a pathologist

. This is routine practice. One of the things they look at is whether all of the cancer has been removed. The information collected during the Raman spectroscopy will be compared to the pathology results to find out how accurate the spectroscopy is.
Hospital visits
You do not have any extra hospital visits. Having the Raman spectroscopy means your operation will be about 5 minutes longer.
Side effects
The amount of laser light used is very small. The researchers do not expect you to have any side effects from being exposed to this light. It does not cause damage to your brain.
How to join a clinical trial
Please note: In order to join a trial you will need to discuss it with your doctor, unless otherwise specified.
Please note - unless we state otherwise in the summary, you need to talk to your doctor about joining a trial.
Supported by
Brain Tumour Research Centre
Imperial College Healthcare NHS Trust
NIHR Clinical Research Network: Cancer
CRUK internal database number:
Please note - unless we state otherwise in the summary, you need to talk to your doctor about joining a trial.
Rhys was only four years old when he was diagnosed with a brain tumour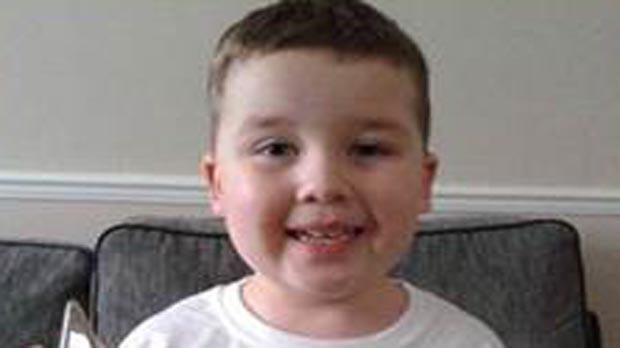 "He went through six operations and was placed on a clinical trial so he could try new treatments."