What's in a cigarette?
You may think a cigarette is just tobacco wrapped in paper, but it's much more than that. When a cigarette burns it releases a dangerous cocktail of over 5,000 different chemicals. Many of these chemicals are poisonous and more than 70 may cause cancer, according to the International Agency for Research on Cancer (IARC). And it's not just the smoker who is exposed to these chemicals, because there are also high levels in the smoke coming off the tip of a cigarette while it burns. So anyone around the smoker breathes them in as well.
This page has information on some of the poisons in cigarette smoke that we know are linked to cancer. To learn more about the impact of these chemicals in the body, see our How smoking causes cancer page.
Chemicals can get into cigarettes in different ways. Some are found naturally in the tobacco plant, some are absorbed by the plant from the soil, air or fertilisers, and some are formed when tobacco leaves are processed or are added by the tobacco industry. Others form when a cigarette burns, so are only present in the smoke coming off a cigarette.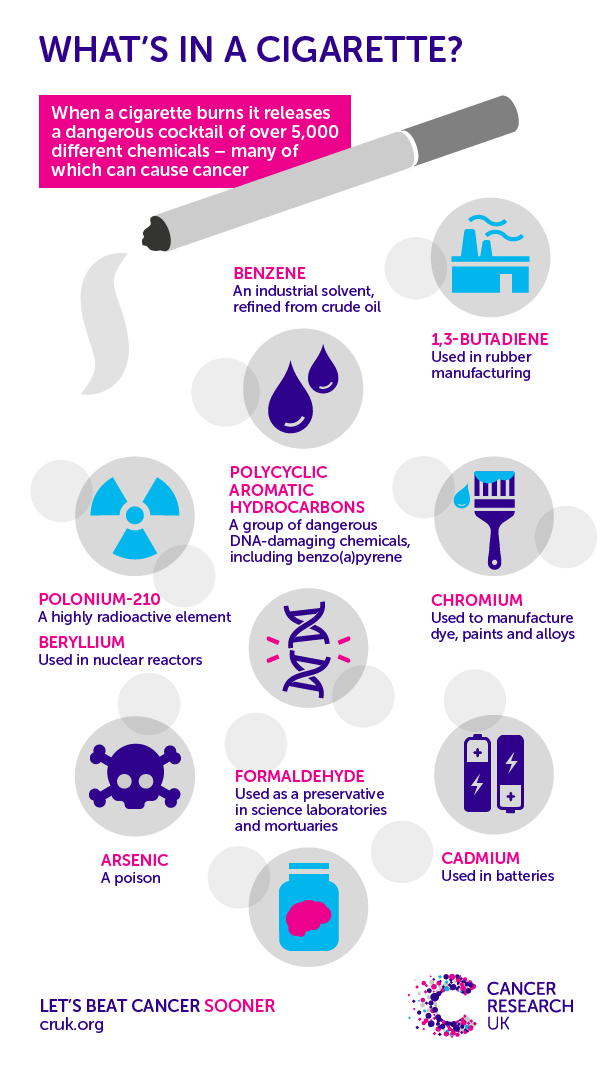 Many of the cancer-causing chemicals in tobacco and cigarette smoke have other suprising uses too:
Benzene – an industrial solvent, refined from crude oil
Arsenic – a poison, used in wood preservatives
Cadmium and lead – used in batteries
Formaldehyde – used in mortuaries and paint manufacturing
Polonium-210 – a highly radioactive element
Chromium – used to manufacture dye, paints and alloys
1,3-Butadiene – used in rubber manufacturing
Nickel – used to protect metals from corrosion
Vinyl chloride – used to produce plastic and vinyl products
Beryllium – used in nuclear reactors
Ethylene oxide – a disinfectant used to sterilise hospital equipment
Polycyclic aromatic hydrocarbons – a group of dangerous DNA-damaging chemicals, including benzo(a)pyrene
Ortho-Toluidine – used in the production of weedkillers
4-aminobiphenyl and 2-naphthyl-amine – used in dye manufacturing until it was banned in the EU
And then there are tobacco-specific nitrosamines – a group of cancer-causing chemicals only found in tobacco.
This cocktail of chemicals is why there is no safe way to use tobacco and the best thing a smoker can do for their health is to stop smoking completely.
The free Stop Smoking Services help thousands of people quit every year, so if you are looking for the best possible chance of success, talk to your doctor or pharmacist or visit NHS Smokefree.