Postdoctoral Research Bursary for Clinical Trainees
About this scheme
Key information
Career level
Clinician
Post doc
Early career researcher
Health professional
This award offers funding for clinical trainees to undertake a research project after completion of a PhD.
Applications are considered from any area of our funding remit, with the exception of clinical trials and drug discovery.
You should have:
obtained a higher degree (MD/PhD) in a cancer-relevant research area.
a national training number (NTN or NTN(A)) at the time of award
secured protected time and salary for your research
You should not have held any previous postdoctoral fellowships.
Fellowships must be hosted in a UK University or research institute. Periods of research experience away from the host institution may be requested and must be fully justified.
Funding support is provided for:
up to £35,000
up to 2 years support
research expenses and research services (e.g. statistical support, lab technician services, etc)
travel related to the research project or collaborations
The award cannot be used to fund:
the applicant's salary
course or examination fees
How to apply to this scheme
Overview of the application process
Applications for Research Bursaries are considered twice a year by the Research Careers Committee*.
Timelines typically follow this schedule, but may vary:
| | | |
| --- | --- | --- |
|      Applications open     |        Application deadline     |       Funding decisions     |
| 12 July 2021 | 15 September 2021 | December 2021* |
*The Research Careers Committee is a new CRUK Committee that combined and replaced both our previous New Investigator Committee and Clinical Careers Committee. The Research Careers Committee covers both remits and reviews all associated schemes.
Before making your application
If you have questions aboout the eligibility of your proposal for this scheme, or require any assistance with your applicaton, please contact the Research Grants Manager.
Cancer Research UK contact details
Please contact your Research Grants Manager if you have questions about your eligibility for this scheme or require any assistance with your application or active award
For Cambridge, Manchester, Scotland, The North of England (incl Newcastle), Wales
Jurga Kaucikiene, Research Grants Manager: fellowships@cancer.org.uk
For London, Oxford, Southampton, Birmingham, Northern Ireland, The South
Dr Victoria Walker, Research Grants Manager: fellowships@cancer.org.uk
Please contact Dr Marjolein (Lein) Schaap, Research Programme Manager, if you would like to hear more about the support we offer e.g. CRUK Fellow meetings, activities and training, and to share any potential challenges you might face: fellowships@cancer.org.uk
Please refer to the 'How to apply to this scheme tab' for further details and dates for this current Autumn 2021 round, and the next Spring 2022 funding round.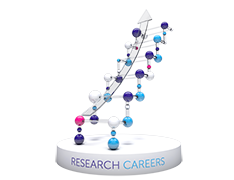 We offer a range of fellowships, bursaries and other support to help outstanding scientists and clinicians develop their independent research careers.
We're breaking down barriers and helping to progress clinical research careers in the UK
Related guidance to download
More funding schemes like this