Equality, Diversity and Inclusion
CEO and Chair EDI Statement

At Cancer Research UK we value and embrace Equality, Diversity and Inclusion (EDI). Creating a diverse working culture where everyone can be themselves and reach their full potential is hugely important to us. We believe our differences make us stronger and more effective in our aim to beat cancer sooner.
As the UK's largest charity, we recognise the positive role we can play in developing and embedding EDI best practice. A diverse workforce has huge benefits for us as an organisation, not only in employment practices, but for our scientific research and our ability to engage with everyone who is affected by cancer.
EDI is a key priority for the charity and we're making changes in recruitment, training and policy, which we are committed to over the long term. Our overall goal is to become the sector leader in EDI excellence. We recognise that there is much to do to realise this ambition; however, we are fully committed to achieving it within the next three years.
The Council and the Executive Team, supported by HR, the EDI Team and a newly created Champions Group, has set ambitious objectives to champion EDI.
We have already started implementing our EDI strategy. We're still in the early stages of the delivery phase, but we have a full time EDI Manager in post and have made progress in several key areas:
Interns will be paid the London living wage from Summer 2018, removing a barrier to entry
We have a stated commitment to EDI in our job adverts and applicants are asked to complete EDI monitoring data capturing information on gender, ethnicity, sexual orientation etc. and we will report and track data
We have signed up to the Tech Talent Charter (TTC) and have pledged to support attraction, recruitment and retention policies that are designed to increase diversity of the workforce, not just in technology teams but throughout the organisation
Two of training schemes are working with Inspire! – an Education Business Partnership working with local schools in Hackney, Camden and Islington
Further initiatives which we are looking forward to implementing over the coming months include:
Establishing a diverse range of employee network groups
Participating in several national EDI external national benchmarking programmes, such as the Stonewall Employers Index
The launch of a cultural events programme
By being more inclusive, we will be better able to represent the people we serve and deliver the excellence required to reach our ambition of 3 in 4 people surviving their cancer.
Professor Sir Leszek Borysiewicz - Chairman of the Council of Cancer Research UK
EDI Policies
We want our people to be proud to work for Cancer Research UK, an organisation renowned for its world leading work. We recognise and welcome our role as an aspiring sector leader in equality, diversity and inclusion. We recognise the sector's diversity challenge and will take Positive Action to ensure we have a workforce that is reflective of society.
EDI Champions Group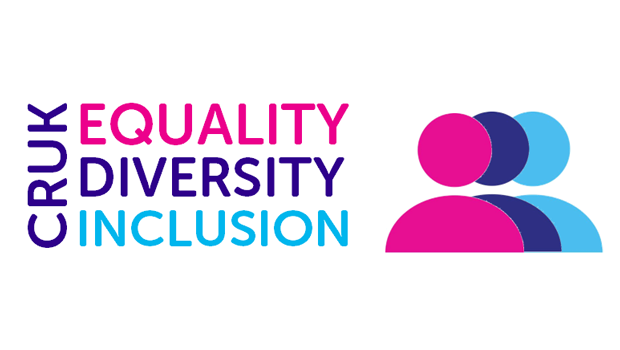 Cancer Research UK as part of its wider commitment to equality, diversity and inclusion (EDI) is looking to set up an organisation wide EDI Champions Group. The intention is to create a diverse and representative group that includes colleagues from all directorates. The EDI Champions Group will work with the EDI Manager to champion EDI good practice across Cancer Research UK and act as a constructive critical friend.
If you have any further queries please email: edi@cancer.org.uk