Partners
Our funding partners have helped us reach tens of thousands of people since the Roadshow started in 2006. Thank you to everyone who's supported our work. Find out more about our current funders below.
Ronan Keating and the Marie Keating Foundation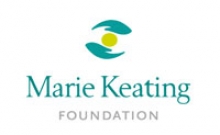 The Roadshow was launched in partnership with Ronan Keating and the Marie Keating Foundation  in 2006 and they currently fund our Scotland, North East and North West Roadshow units.
We want to say a big thank you to Ronan, the Keating family and everyone at the Marie Keating Foundation for their continued support over the years.
Thanks to their partnership we've helped bring cancer awareness information to more than 500,000 people since 2006.
"My family and I were devastated when my mum died of cancer in 1998. We wanted to do something positive to help people understand more about cancer, so fewer families have to go through what we did. We're excited to work with Cancer Research UK and be part of something that is making a difference for thousands of people every year." Ronan Keating
The Peter Andre Fund
We are delighted to have been working with the Peter Andre Fund since 2013 and would like to say a huge thank you for their support of the Roadshow. The Fund supports our London unit, helping us to talk to hundreds of people every week about cancer.