Jane Wardle Prevention and Early Diagnosis Prize
This prize recognises an individual at any career stage who has produced world-leading research in the field of prevention and early detection of cancer.
Key information
| | | |
| --- | --- | --- |
| | Awarded to | Researchers at any career stage in the fields of prevention or early diagnosis |
| | Prize value | £10,000 |
| | Nominations open | November 2017 |
|   | Nominations close | 31 March 2018 |
Make a nomination
The Jane Wardle Prize will be awarded annually to an outstanding cancer researcher nominated by his or her peers and selected by an international panel.
Candidates should work in the broad research field relating to prevention or early detection of cancer
Candidates must have produced international quality research outputs, and be committed to building their research career within the UK.
Candidates cannot nominate themselves.
Candidates need not be in receipt of funding from Cancer Research UK, or have been supported, either directly or indirectly, by Cancer Research UK.
There are no restrictions with regard to the race, age, gender, nationality, or religious or political views of a candidate.
The Prize will be presented to an individual investigator.
​To nominate, the following materials must be submitted:
A completed nomination form that includes a summary statement of no more than 2000 words, describing: the research accomplishment(s) of the candidate and the significance and impact of his/her research. Publications supporting these contributions may be directly referenced within the text.
One letter of support from an expert in the field, who must come from outside the nominee's institution. This can be included with the nomination form or sent directly to Cancer Research UK at the email address below. The name of the referee should be included in the nomination form.
The candidate's CV, including a list of their most relevant publications (up to a maximum of 10).
There is no restriction on how many candidates can be nominated by an individual scientist. There is also no restriction on the number of nominators writing nomination letters or signing a single nomination letter on behalf of a candidate.
Nominators are asked to maintain the confidentiality of the nomination process.
Nominations must be submitted electronically to prizes@cancer.org.uk. Paper nominations will not be accepted. A nomination should not be considered submitted until Cancer Research UK has issued an email confirming this. Confirmations will be sent within five working days.
Please note that the deadline is final and we cannot accept nominations after 5 p.m. on the day of the deadline.
Make a nomination
Ready to nominate an outstanding researcher?
Winners of the Jane Wardle Prize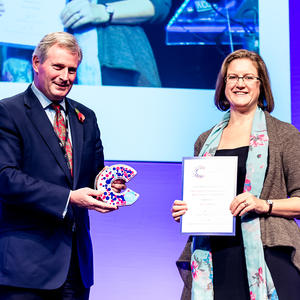 Dr Jo Waller
Title: 2016 winner
Organisation: University College London
Dr Jo Waller's team, based at UCL, carry out pioneering research on the public perception of cervical screening and HPV testing and vaccination. Dr Waller's work has had a clear clinical impact on the Cervical Screening Programme in England and has helped to understand screening non-participation and ways that women can be supported to attend.