Volunteering
Applications for Shine Night Walk 2018 volunteering have now closed, however if you would still like to get involved, we would love to welcome you to the event!
If you have friends who have already signed up to volunteer then they will have been sent arrival instructions - please just head along with them and we'll get you registered when you arrive. If you don't know anyone else who is volunteering then please head to our start venue, Southwark Park, and help us give our Shiners a wonderful send off on their challenge; details for Southwark Park are below:
Address: Southwark Park, Lower Road, SE16 2XL
Arrival time: 17.00 on Saturday 22nd September
Directions: making your way to Canada Water station on the Jubilee line, take the east exit onto Surrey Quays Road and walk along until you reach Lower Road. Turn left and keep walking until you see China Hall Gate entrance to the park on the right hand side, just after the China Hall Public House, which will take you to the start site. Alternatively you can easily make your way from Surrey Quays on the Overground or there's a number of buses that stop nearby.
When you get there: from Canada Water station, you will see signs to Southwark Park - follow the volunteer signage and this will lead you to the volunteer marquee where you will be met by our Volunteer Manager, who will get you registered, and assign you a role.   
Shine 10k Volunteers
Shine 10k Events in Glasgow, Cambridge, Cardiff, Liverpool, Leicester & York, whatever you do and whoever you're with, sign up to volunteer at Shine Night Walk and be a superhero to thousands for a night.
Join the Shine Volunteer Team and support thousands of people raising millions towards life-saving research. You can be a part of the 1,000's of strong volunteers helping to make the incredible Shine Night Walk challenge that bit easier and lots more fun!
If you have any problems or questions, you can get in touch at ShineVolunteering@cancer.org.uk 
There are lots of ways you can help
Volunteer as a group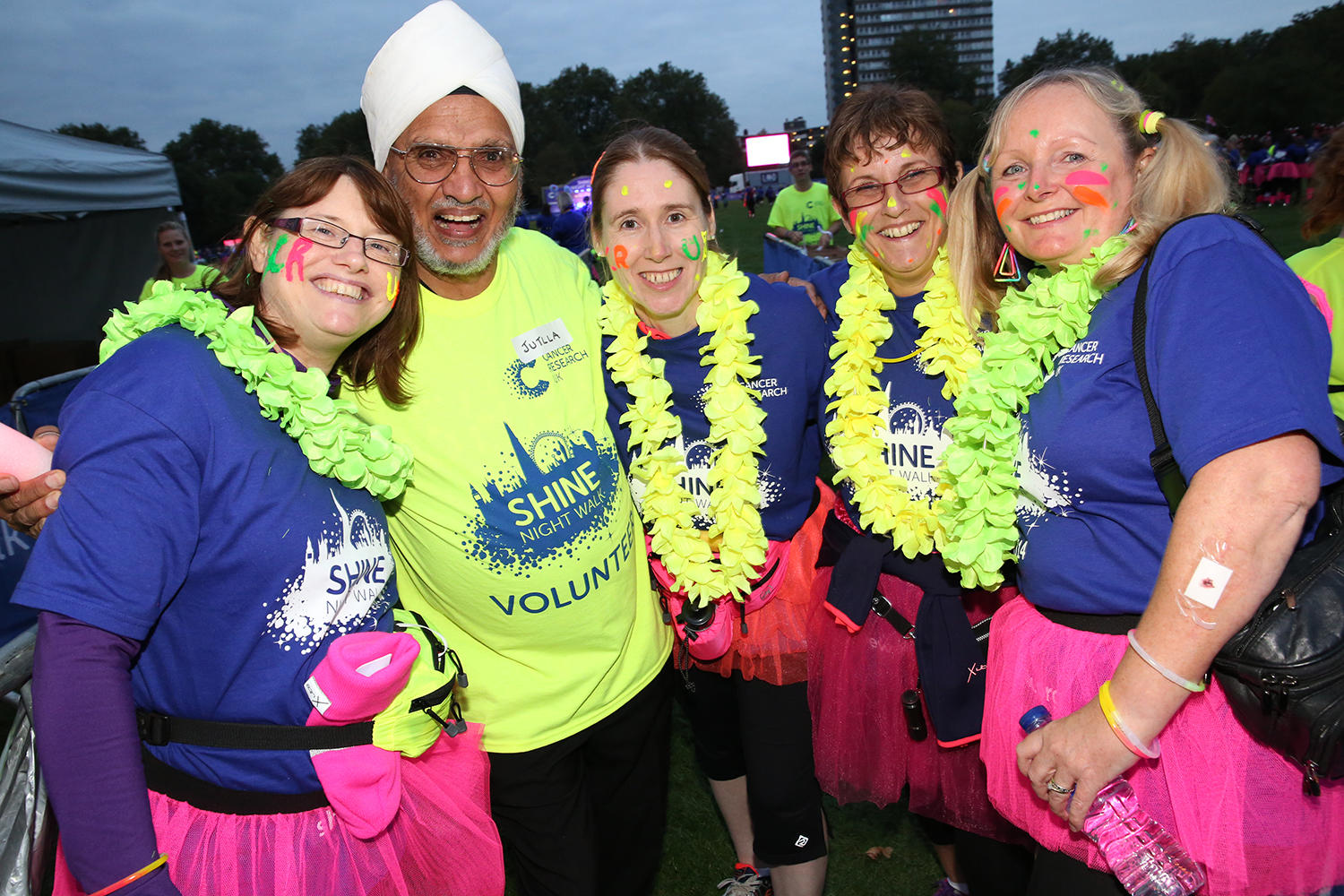 Want to share the experience with friends and family? You can sign up as a group, even if it's just two of you.
Simply agree on a group name and include it in the sign up form so that we know you want to work together on the night. Please make sure every member of your group signs up so we have all the information we need to look after you on the night.
What it means to be a Shine Superhero
I enjoyed every moment of volunteering at Shine because it was a fun evening giving my time to a great cause. The other volunteers where great fun to be around as well as being on hand to help shiners in need, congratulate them on their achievements and spur them on in those last few minutes. Such an amazing atmosphere all night.
–Shine Volunteer 2017
Get in touch
We really appreciate what a commitment volunteering can be, our volunteer manager Lucy is on hand to answer any questions you might have so please do get in touch!
If you need to change your ideal shift time, add a group name to your application or simply want to say hi then please email ShineVolunteering@cancer.org.uk