RHS Tatton Park Flower Show 2021
The Legacy Garden
Cancer Research UK Legacy Garden was at RHS Tatton Park Flower Show during 21-25 July 2021.
The Legacy Garden is a peaceful and immersive space inspired by a Greek proverb, 'A Society grows great when old men plant trees whose shade they know they shall never sit in.'
The garden represents the important role of gifts in Wills
This Legacy Garden is designed by Neil Sutcliffe and will be on show at RHS Tatton Park between 21 – 25 July 2021. The features in the garden represent the duality between our legacy supporters and researcher who together will help to beat cancer for future generations.
Five water rills flow towards the central bed.
As the water flows to the central bed the two channels join together as a representation of the duality between gifts in Wills and research. Creating an everlasting feature, fuelling infinite progress much like the legacy gifts left in Wills.
The central Platanus orientalis 'Minaret' tree.
At the heart of the garden is the specimen tree. It is nurtured by five water rills, which act as a root system for the tree giving it life. Symbolising the way legacy gifts in Wills act like the root system of a tree and feed the central work of Cancer Research UK's world-class scientists. A circular canopy shelters the path that surrounds the tree and provides a spot to pause and reflect.
Engraved messages in the garden acknowledge our legacy supporters and researchers.
Together they bring us a step closer to a future free from cancer for future generations.
A mature copper beach hedge encloses the garden from the outside world.
It creates an immersive and reflective atmosphere to allow you to experience the garden fully.
Vibrant and uplifting planting.
Woodland planting, interesting textures and colourful blooms give the garden a feel of a British 'rainforest'. Some species have been selected for their cancer-treating properties, such as the Verbena bonariensis lollipop. To see all the plants listed in the garden download our plant list.
Download our Garden Guide for more information about The Legacy Garden.
Neil Sutcliffe Award Winning Garden Designer
About Neil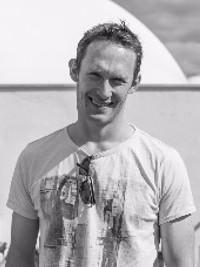 Neil Sutcliffe has been working as a garden designer for almost 10 years and has exhibited at four RHS shows, achieving two Gold Medals, as well as a Best in Show Award and a further two Silver Gilt Medals. Neil is excited to be designing Cancer Research UK Legacy Garden at RHS Tatton Park Flower Show 2021. He comments:
"Designing and building a show garden is an amazing experience for the whole team but working with Cancer Research UK towards such a good cause means so much more. It's a subject that touches so many lives and I think a garden is a perfect way to tell the story of just how much of a difference leaving a legacy in your will can make to so many people in the future. 
Gardening for me often has a really uplifting effect and often brings quite an instantaneous impact, but the real thrill is how it grows and develops after you've put in the effort and that really does tie in well with this central theme. I'm a big fan of contrasting the rustic and raw with the contemporary and clean lines that gardens can incorporate and of course ensuring the plants do the talking!"