RHS Malvern Spring Festival 2022
Join us at the RHS Malvern Spring Festival
The Cancer Research UK Legacy Garden is at the RHS Malvern Spring Festival from 5-8 May 2022. Join us for a celebration of the life-saving research gifts in Wills allows us to do while exploring a garden designed to represent the amazing work of our legacy supporters and researchers.
The Cancer Research UK Legacy Garden celebrates the life-saving research made possible by gifts in Wills. The 2022 garden, by award-winning designer Karen Tatlow, brings this important relationship to life through two equally sized areas linked by a moon gate. Read more about the garden below, and find out how you can leave a legacy gift to help save lives for generations to come. 
Garden Designer Karen Tatlow's moon gate design was inspired by her family story of love between a granddaughter and her grandad. Whenever they were apart the little girl was sad. Her Grandad told her to look at the moon, he would too, and that way they would always be connected. When the granddad died of Pancreatic cancer, the little girl would look at the moon and she'd be forever connected to her beloved grandad.
The Gifts in Wills guide
Gifts in Wills account for over a third of our life-saving research. Without them, we simply wouldn't be able to undertake all the vital research we do which could one day beat cancer.  
Ordering our guide is the perfect starting point for writing your Will. It includes tips and information on:  
How to write or amend your Will 

Our free Will service 

What Gifts in Wills are funding 
The different types of gifts you can leave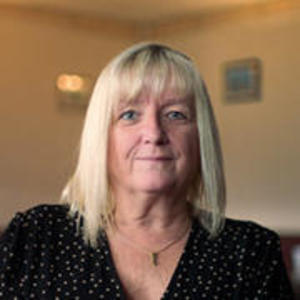 'I want the money from my lifetime to do something everlasting'
"In 1984 my lovely mum was diagnosed with breast cancer. She was treated with a lumpectomy but sadly died in 1985. It was heart-breaking and still is to this day.  I know everyone says their mum is the best, but mine really was.  ​
My motivation for leaving a gift in my Will is to fund research so other families don't have to go through what ours did. So, no other 21 years old lose their beloved mother to cancer.  ​
​I am passionate about finding cures for this horrible disease. I'd like to turn heartbreak into survival. I want the money from my life to do something everlasting."