RHS Hampton Court Palace Garden Festival 2021
Award-winning Garden
Cancer Research UK Legacy Garden was at RHS Hampton Court Palace Garden Festival 5 -11 July 2021.
The garden has won a hat-trick of awards RHS Gold Medal, Best in Show, and Best Construction.
It represented the duality between our legacy supporters and researchers who together will help to beat cancer.
The garden represents the important role of gifts in Wills
The Cancer Research UK Legacy Garden was designed by award-winning gardener Tom Simpson. 
The garden features are inspired by our legacy pledgers who helped to make research possible by pledging to leave a gift in their Will. And our researchers who work tirelessly to bring about the day when no one fears cancer. 
The garden is shaped to form the figure of eight.
It represents the symbol of infinity. The garden symbolises continuity and that progress is everlasting. Each new breakthrough in cancer research inspires the next.
The water feature flows through the garden.
The source and the end of the water are hidden creating an everlasting feature, fuelling infinite progress much like the legacy gifts left in Wills. 
A curved boardwalk will take you on a journey through the garden.
Engraved messages along the boardwalk acknowledge supporters and researchers. Each one brings us a step closer to a future free from cancer.
The boardwalk will lead to a sunken paved terrace.
There are benches nestled within the planting, that provide a peaceful place to relax and watch the water feature run its course through the planting.
Planting scheme
Scented, colourful, and textural plants feature throughout the garden to further enhance the sensory garden experience. To see all the plants listed in the garden download our plant list.
Download our Garden Guide for more information about The Legacy Garden.
Tom Simpson Award Winning Garden Designer
Hat-trick of RHS Golds for Tom Simpson with Cancer Research UK Legacy Show Garden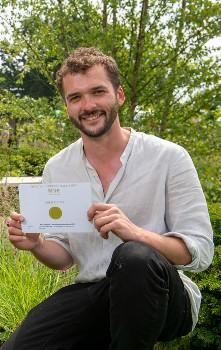 Innovative young designer Tom Simpson, 32 from Dartmouth, has achieved the impressive feat of winning his third back-to-back RHS gold medal at this year's Hampton Court Palace Garden Festival.
Having struck gold at his first ever RHS show in 2018, Tom repeated the accomplishment in 2019 and in 2021 he has scored a hat-trick with his legacy themed show garden designed for Cancer Research UK. 
Speaking following the win, Tom said: "After a tough year, unable to compete, I could not have asked for a happier return. To win three RHS gold medals in a row is beyond anything I could have dreamed of. It's a testament to all the months of hard work that has been put in by the entire team.  
"Creating a garden with a such positive message, shining a light on the incredible impact gifts in wills have on beating cancer for future generations, has been an honour. If this year has taught us anything, it's the value of investing in science, and I'm proud to help raise awareness that all of us can support research to beat cancer.
"I hope the garden sparks joy and provides a welcoming and tranquil space for everyone who visits it throughout the festival."
Please note the prize draw to win an hour of Tom's Time has been drawn and the winner notified.