360 surgery video sheds light on research into oesophageal cancer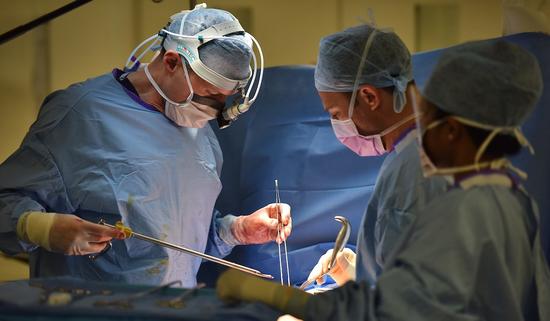 Cancer Research UK was recently given access to the operating theatre as surgeon-scientist Professor Tim Underwood performed a life-saving oesophagectomy – an operation to remove part of the oesophagous (food pipe) – on 65-year-old patient Janet Jenkins from Hampshire.
Warning: this video contains graphic medical scenes.
Professor Underwood is using tumour tissue removed during operations to study the relationship between cancer cells and healthy cells within a tumour.
Tumours are not just made of cancer cells, they also contain healthy cells that have been hijacked by the cancer to support it and enable it to grow. Professor Underwood is using a cutting-edge technique called Droplet-Sequencing to find out how this happens, by looking at the individual cells which make up the tumour, the different cell types, and how they interact within the tumour microenvironment.
Professor Underwood has been awarded a five-year Advanced Clinician Scientist Fellowship from Cancer Research UK to carry out this research and see if he can find new targets for cancer treatment. Encouraging more researchers like Tim to bring their clinical skills to the lab will help to build a much-needed sustainable research community for oesophageal cancer – a hard-to-treat cancer – and future-proof our current research, making sure it continues for decades to come – something that can only be good news for patients.