Help us Scale Down Cancer in Scotland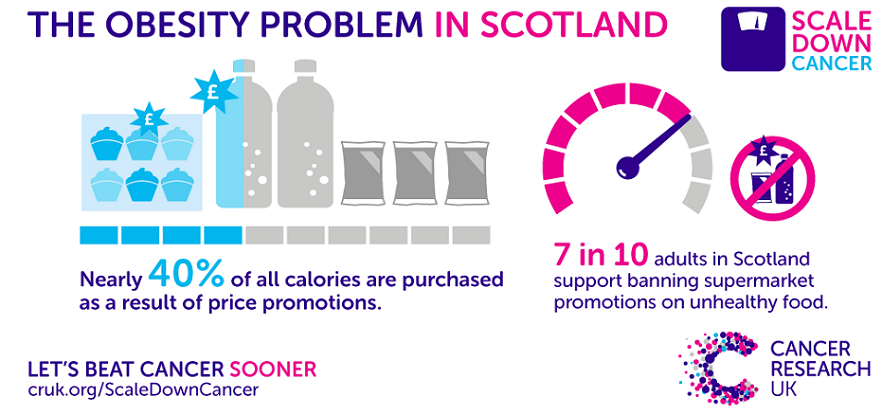 In 2016 the Scottish Government committed to publishing a new diet and obesity strategy in 2017. As part of our 'Scale Down Cancer' campaign we want to make sure this strategy is as comprehensive as possible, and in particular, that it includes restrictions on multi-buy discounts and promotions in Scotland, such as 2 for the price of 1, on food high in sugar, fat and salt. These offers can lead people to buy and eat more unhealthy food than they might otherwise.
Take action now! Ask your MSP to write to Public Health Minister, Aileen Campbell. 
We want Mrs Campbell to consider our key call – restrictions on price promotions – when drafting Scotland's obesity strategy. As the Government is going to be drafting this in the spring, we've only got a short time left to influence, so your action is really important!
Our campaign, 'Scale Down Cancer', launched in mid-November.
On the 6 December, the Health and Sport Committee met to hear evidence about how to tackle obesity. This was our first window of opportunity to influence what went into the strategy. Our supporters asked their MSPs to contact the relevant Committee member, to make sure they took our key calls into consideration ahead of the debate. At the meeting, the Committee agreed there was an 'obesity crisis' and that action needed to be taken.
In January, after considering the evidence, the Committee published a letter to the Public Health Minister, Aileen Campbell, summarising the key issues – including our arguments – and calling for action on a range of measures including price promotions. The Committee's views are helpful in demonstrating that there's cross-party support for our priorities, so it's a great start to the campaign!
Later on in the month, on the 24 January we organised for a giant set of scales to be put outside the Scottish Parliament, and asked Members of the Scottish Parliament (MSPs) to show they were tackling obesity by taking unhealthy food out of the scales. We also organised a debate in the Scottish Parliament on how cancer can be prevented, with a focus on obesity.
The day was a huge success, and we spoke to lots of MSPs and members of the public about the campaign. You can find out what happened on the day via our blog.
The Scottish Government are now considering key ideas for the strategy, so this is an ideal time to influence. In the next few months we'll be continuing to put pressure on decision makers, and we'll keep the website updated with how you can get involved.
If you don't live in Scotland you can't take action for Scale Down Cancer. You can get involved with our UK-wide campaign, Junk Free TV, aimed at tackling children's obesity by removing junk food marketing on TV before 9pm.