Francis Crick Institute Commemorative Medal
Own a limited edition Francis Crick Institute medal, released for the very first time
To mark the historic opening of the Francis Crick Institute this year, Cancer Research UK is issuing the first ever commemorative medal, limited to just 9,999 pieces.
The Medal
We are offering you an exclusive opportunity to be one of the very first to own the Francis Crick Institute medals. Buy a medal for £9.99 and support our life-saving research.
The medal serves as both a lasting reminder of the historic launch of the Francis Crick Institute, and a celebration of the invaluable contribution to cancer research made by supporters from all over the UK.
Specifications
Struck to a proof-like finish this limited issue gold layered medal features a unique design. It celebrates the groundbreaking discovery of the structure of the DNA double helix in 1953 by Francis Crick and his team, but also looks forward to the Crick and a visionary new age for medical research.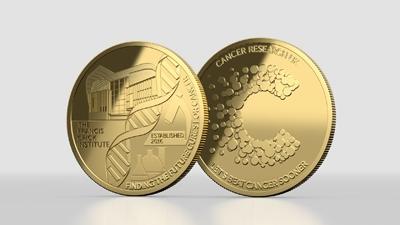 Medal Specifications
Weight 25g
Layered in 24 carat gold
Diameter: 38.6mm
Unique design featuring the Crick Institute Building
Frosted design detail/mirrored finish
Milled edging
Presented in a 6 page collectors' issue pack