Our research into the impact of COVID-19 on cancer
Coronavirus (COVID-19)
We have created a central resources hub for Health Professionals which hosts all of our CRUK resources and further materials to help with managing the pandemic. We are updating the information as guidance changes. There is also a page specifically for patients on our about cancer hub.
Have feedback or questions on anything here?

When the UK entered "lockdown", it became clear that cancer pathways would be impacted and therefore crucial to gather and monitor the evidence both in real time and the future. Cancer Research UK initiated a COVID-19 'Research & Analysis' workstream to:  
Understand research priorities 
Co-ordinate and communicate COVID-19 research and analysis 
Gather external intelligence 
Identify any synergies and opportunities to collaborate 
Monitor and review published evidence  
Together with the other COVID-19 workstreams happening across CRUK and our grant funded research, this work will inform how we support cancer patients, services and pathways through the pandemic and recovery and improving outcomes for the future.
Here's a selection of the research we've been conducting and funding to better understand the impact of COVID-19 on the cancer pathway.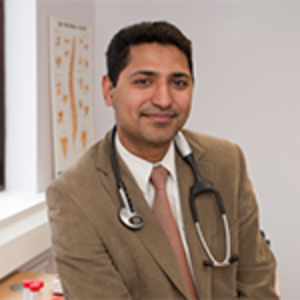 Insights into Primary Care during COVID-19
The COVID-19 pandemic has presented challenges for healthcare professionals working in Primary care. We are carrying out surveys to help us better understand the impact of the pandemic on how GPs deliver cancer prevention and manage the care of patients who they suspect might have cancer. We are running our Cancer Research UK Health Professional Tracker survey in August with UK GPs and Practice Nurses. This will explore their knowledge, attitudes and behaviour around cancer prevention, screening and early diagnosis and we will be able to compare the results with those from the 2018 survey to see if there have been any changes. This year we are also collecting data on the impact of COVID-19, specifically we have included question on;
The impact of COVID-19 on delivery of smoking cessation and weight management advice
How GPs follow up or 'safety net' patients who have symptoms.
GPs access to and use of Faecal Immunochemical Testing (FIT) for patients with lower GI symptoms.
Challenges to managing and referring patients with respiratory symptoms
We are also tracking how GPs feel about some of these key issues on a monthly basis over the summer with some 'snapshot' surveys. We will be using the results of these surveys to inform our work with Health Services and with Health Professionals.
For more information please contact cancerintelligence@cancer.org.uk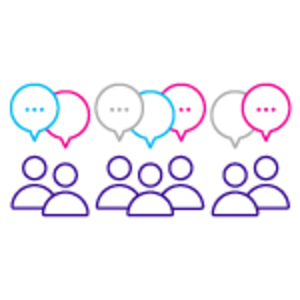 COVID Cancer Awareness Measure (COVID-CAM)
Since the onset of COVID-19, people may not be aware of the importance of seeking medical help for early signs of cancer and attending screening to diagnose cancer sooner. COVID-19 may also affect whether people take part in healthy behaviours that can reduce the chances of getting cancer. To better understand this we've developed a COVID-Cancer Awareness Measure (COVID-CAM) survey which will launch in July. Data will be compared to the results of CRUK's 2019 CAM+ survey to understand change over time
Specifically, we aim to understand the following:
How much are people smoking, drinking (alcohol), and exercising?
Do people know what potential symptoms of cancer are?
To what extent are people delaying going to see their GP for potential symptoms of cancer?
What is putting people off going to their GP and hospitals right now?
How do people feel about cancer screening programmes?

The survey has been developed in collaboration with academics and is funded by UK Research and Innovation. See more on the wider study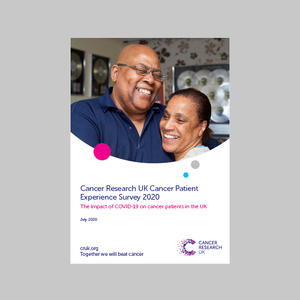 Cancer Patient Experience Survey
Soon after the start of the COVID-19 pandemic and the implementation of 'lockdown' we learnt that the outbreak of COVID-19 was negatively affecting the testing, treatment and care of cancer patients. We needed to learn more about the impact of COVID-19 on people affected by cancer, and to quantify this by engaging with a large sample of cancer patients. In response we launched the CRUK Cancer Patient Experience Survey.

We developed this survey in collaboration with academics and cancer patients and collected data during May 2020 on a range of topics, including:
Impact of COVID-19 on cancer services (testing, treatment & care)
Emotional impact of the pandemic on cancer patients
What do people with cancer think CRUK should be doing now and after COVID-19?
What do people with cancer think the government should be doing now and after COVID-19?
Where possible, existing survey measures were adopted from surveys such as NHS England's 'Cancer Patient Experience Survey' and the Wellcome Trust's 'UK COVID-19 Questionnaire'. The survey also collected qualitative data from open questions and these results were complemented by case studies from 6 cancer patients who provided an in-depth, first-hand account of their experiences.
Cancer Research UK. Cancer Research UK Cancer Experience Survey 2020: The impact of COVID-19 on Cancer patients in the UK. July 2020.