Steve's Walk All Over Cancer story...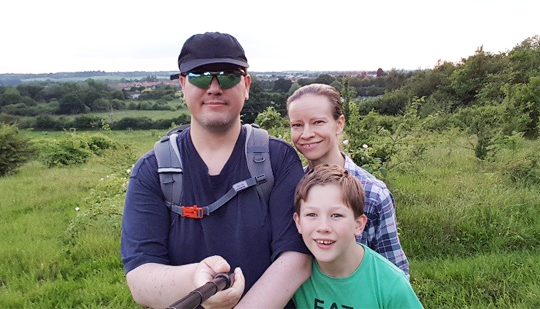 After Steve's grandmother passed away last year suffering dementia and stomach cancer, he decided to take part in Walk All Over Cancer and raise crucial funds for our research. Hear his inspirational story of determination and how stepping up to the challenge changed his life for good.
"I'd always supported Cancer Research UK but after hearing how terribly it had affected my Nana, I really wanted to do more by fundraising.
I kept seeing lots of charity running events advertised but my problem is that it had been 20 years since I did any proper amount of exercise and it had got to the stage where the only exercise I was getting was walking to my car outside the house, driving to work and then walking to the office door.
I knew something had to change, so when I saw the TV ad for the Walking All Over Cancer challenge I thought 'this is something I can do'. I've never been a runner but got really motivated by the fact that I could challenge myself to walk longer distances.
I started small by just walking around the car park at work in my lunch break, then I would walk around my local area when I got home in the evenings. Then I progressed to park walks with my family at weekends.
It was pretty tough as my hay fever was at its worst, had eczema on my feet and had damaged my ankle so was in a bit of pain whenever I walked. But I was determined to push through. I just kept thinking that this was nothing like the pain my Nana must've gone through along with so many others suffering from cancer.
Things became a little bit easier every time I walked though and when I checked my pedometer at the end I had walked a total of 300,556 steps during the month. I also raised more than £1,000 for Cancer Research UK.
Now I've got the bug for fitness, regularly taking part in parkruns and I've even signed up for the Colchester half marathon next year to again raise money for Cancer Research UK. If I can go from barely doing any exercise for more than two decades, to having my sights set on a half marathon then I know anyone can Walk All Over Cancer."
The money Steve raised will make a huge difference to our life-saving research. Help us beat cancer sooner too by signing up to walk 10,000 every day this March.