Patient involvement opportunities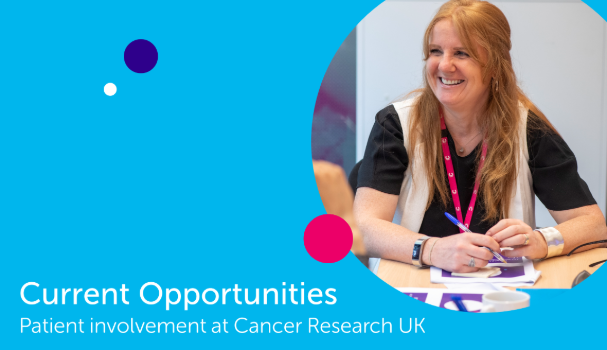 Get all the latest opportunities, sent to your inbox
Join our network and we'll send you our fortnightly newsletter which lists all the latest opportunities to get involved. we are looking forward to working with you.
COVID-19
As a result of the COVID-19 (coronavirus) outbreak, and advice from the Government, all our face to face involvement activity has been put on hold. We are keeping people affected by cancer at the heart of what we do, so your involvement is still so important.
If you or a loved one has cancer, you might feel especially worried. The NHS and the Government have put together guidance on these issues which we have summarised and linked to from our information pages and you can speak to our nurses on 0808-800-4040 if you want to talk any of this through.
Here are the current patient involvement opportunities you can take part in 
Working with you gives us invaluable insights that can help develop our work, accelerate our progress and save lives. Whether you've got lots of time to spare or only a little, and whatever your experience of cancer, we hope you'll find an opportunity that interests you. We regularly update this page, so please come again to visit soon.
You'll need to be aged 18+ to take part in most of our opportunities. Any opportunities available for aged 16+ will be highlighted on the information page.
Get in touch
If you have questions about any of our opportunities, or feedback for us, you can contact us by emailing us at
involvement@cancer.org.uk or call us on 0203 469 8777.  We're always happy to answer questions and receive feedback, so please don't hesitate to get in touch.