What involvement means to Terry
"Being involved has given a new meaning to my life; it's the best thing I've ever done."
In our ambitious Grand Challenge, research teams from around the world are competing for £20 million of funding to tackle one of our seven big research questions. Through local consultations, workshops, and as part of our Grand Challenge Patient Advisory Panel, patients played a vital role in helping set those challenges. 
Panel member Terry tells us how getting involved in shaping our research changed how he felt about his cancer.
What has being involved meant to you?
''I was one week short of my 43rd birthday when I was diagnosed. I was a self-employed joiner with lots of work coming in and I was planning for the future. I remember when cancer first found me, for quite a while I was locked in that 'blur of diagnosis' that engulfs so many patients.
As time moved on, and the opportunity presented itself for me to become involved in research, my whole attitude toward the disease changed as well. I feel very privileged to have been part of the Grand Challenge. Being part of the research process has given me back my individuality and restored my confidence. When I become involved I truly felt that I was a survivor and not a victim for the first time.''    
What do you think of the contribution of people affected by cancer can make?
"While we may all come under the headline of 'cancer patient' we are all so different. We come from all walks of life and professions and I feel it's this divergence of personalities which helps unite us in our desire to take research forward. I don't have an academic background, but while I may not know the science, I do know cancer. Cancer Research UK values the contribution patients make and your input really does make a difference within the research process.
What's next?
'I hope to continue to be involved in research however big or small that may be. Since I became involved with Cancer Research UK, the one important factor that stands out for me is the passion of the teams that involve patients. It makes me feel that we are all in this together. I'll continue to be involved in any way I can.'
You can read about Terry's involvment in the Grand Challenge on our science blog.
Get in touch
If you want to find out more about our opportunities and get involved like Terry, please contact us on involvement@cancer.org.uk
Get involved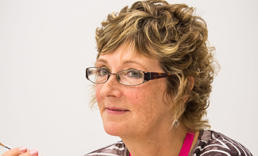 Find out how you could get involved in shaping our work and see our latest opportunities.