Meet our volunteers
Cancer Research UK's life-saving work is only possible thanks to the generosity of our thousands of dedicated volunteers. Read some of their stories below and find out why they love supporting our cause. 
Volunteer Stories
Sam, Volunteer Events Stage Host
"I simply love the buzz of getting on stage to empower and engage event participants to do their best!" Sam volunteers as a stage host for Race For Life, Pretty Muddy and Shine events across the North West. She was motivated to volunteer for Cancer Research UK after losing both her mum and brother to cancer. "I know many people affected by and still battling cancer and wanted to give something back to an amazing charity."

"Volunteering for Cancer Research UK is entertaining, exciting and a privilege. It's a wonderful feeling knowing that I am part of an organisation that drives ground-breaking research so people can spend longer with their loved ones, and they couldn't do it without the support of volunteers".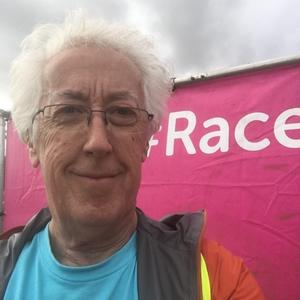 Mike, Mass Participation Event Volunteer
"In 2013 I went through the heartbreak of losing my beautiful wife and soulmate Cazi to breast cancer. Since then, I've been dedicated to supporting Cancer Research UK in its quest to bring forward the day when we can beat this disease."

Mike was inspired to volunteer after completing several events including the Leicester Shine Walk, the London 2 Brighton Ultra Marathon and 5 London Shine Marathons. "Events couldn't take place without the support of such incredible volunteers. The encouragement they provide throughout the day motivates you to carry on!"

"I've made some incredible new friends; we all have a shared passion and I know my Cazi would be so proud".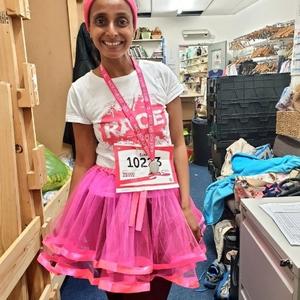 Sumi, Volunteer Assistant Shop Manager
"I wanted to volunteer as I have lost people to cancer, and I want to help find the best cure to put an end to it." Sumi volunteers five days a week at our Chester shop as an Assistant Manager. "It's ace to volunteer! You can progress yourself and learn new skills, all whilst helping a great cause."
Shop manager Jo adds: "My shop wouldn't run as smoothly as it does if Sumi wasn't here. She goes above and beyond every day for Cancer Research UK. I could go on and on about all the things Sumi does for our shop, but the list is endless! I couldn't imagine being here without her."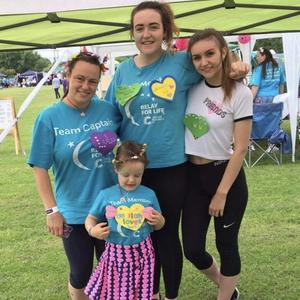 Lucy, Relay For Life Committee Member
"My cousin Lulu was diagnosed with stage IV cancer on her birthday and feeling like I wanted to do something to help but not knowing what, I took to the internet to see what opportunities were available." Lucy first took part in Relay For Life in 2013, and is now a volunteer Chairperson for the Forest of Dean Committee. "I was drawn to Relay because it's a team event, we have a big family and it means everybody can take part!"

Sadly, Lulu lost her battle to cancer in 2016, and two years later Lucy's mum also lost her life to the disease. "I'm so grateful to have my Relay family as a support and they've been vital in getting me through the past few years."

"Volunteering for our Committee has given me strength, support and true friends. Once people sign up to Relay they keep coming back, and although we cannot hold our event this year, I know that 2021 will be amazing!"