Jonathan, Volunteer of the Month - August 2016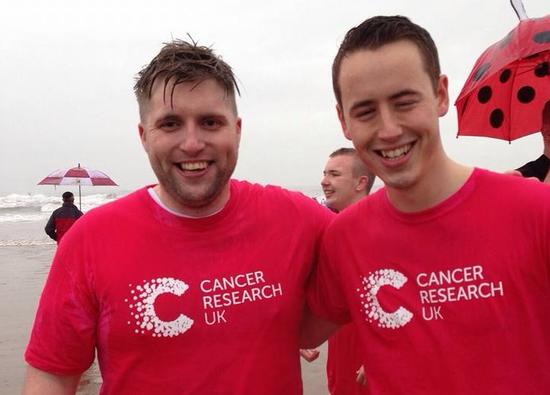 Jonathan felt helpless when his Nana and Mum were diagnosed with breast cancer. He decided to take action, and has spent the last six months building up a new fundraising group to raise both money and awareness for Cancer Research UK.
 'By volunteering I don't feel helpless anymore'
I've always had a passion for supporting charities and people, but cancer has been a constant presence in my life with both my Nana and Mum having breast cancer. When Mum was diagnosed in 2012 it gave me a sense of helplessness. As a natural problem solver, being unable to help her empowered me to join the fight against cancer on a much bigger scale.
As a committee chair of our new fundraising group, Tees Valley CRUK, I mainly organise events, manage new volunteers and network within our local area to throw further light onto the essential work being carried out, whether it be in the lab or the community.
By volunteering I don't feel helpless anymore. I get to first-hand the benefits of the work we're doing and am now part of this larger family. I've met so many inspirational and hardworking people who are working for the betterment of us all.
"We're aiming for much higher feats now - the possibilities are limitless!"
If you're thinking about volunteering with Cancer Research UK I couldn't recommend it highly enough. Seeing where the money goes is truly the eye opener. The vital research and trials that are going on as we speak are building the medications of tomorrow - but this takes time.
So if you can help (and by this I mean as little or as much as you can!) it will make a massive difference and you will be introduced to an inspirational group of people who are always there to help and push you to the next level.
I started with a dream of raising £5,000 in one calendar your, but with the amazing support of my team and Local Fundraising Manager, Janet, we're aiming for much higher feats now – the possibilities are limitless!"
Jonathan's nominator and Local Fundraising Manager, Janet, said:
"Jonathan has spent hours and hours over the last few months building up the fundraising group, Tees Valley CRUK, who will be spearheading the brand new Relay for Life in Middlesbrough in 2017. 
Not one to stand still, Jonathan has been motivating and inspiring his team to raise funds along the way aiming to reach £10,000 by October.
He organised for his group to cover six Tesco stores during the Tesco Turns Pink campaign raising over £3000 - with Jonathan himself doing a 24hour Danceathon at the Stockton Tesco Extra store! He also travelled down to London with his team to cheer our marathoners over the finish line.
While working full time and training to be a teacher, Jonathan has found time to build a strong foundation for the future Relay for Life, supporting his team of 10, promoting on social media and travelling round the region to attend cheque presentations – he's even appeared on live radio more than once!
He really is a true star and an amazing CRUK ambassador and so deserves this recognition."
Congratulations Jonathan!
Do you know a volunteer who has been particularly brilliant recently?