David, Volunteer of the Month – February 2016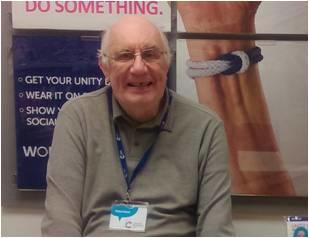 David Hunter – Elm Park Shop Volunteer
David has been volunteering at Elm Park Shop in Essex for the last 10 months and looks after the Books and Media department.
Here's what his nominator, Barbora Butt, Elm Park Shop Manager, had to say about David:
"David started coming to the shop as a customer and then became a volunteer, looking after our Books & Media department and ''oh boy'' he does an excellent job!
He carefully selects all the books that go out on the shop floor and often comes up with ideas about how to sell them faster. This department has definitely increased its takings since we've had David in the team! I have now dedicated a corner of our display window just for him and he is over the moon with it.
Although he was originally volunteering for 2 days a week, he now does 5! I am very grateful that I have a volunteer like David and I would like to thank him very much for everything he does."
Here's what David had to say when he found out he was Volunteer of the Month:
"I was overwhelmed and very happy, it made my day! Volunteering has helped me feel wanted and more outgoing; it's a home away from home. I would tell anyone thinking about volunteering with CRUK, that they must give it a try. I want, to the best of my ability, to help Cancer Research UK beat cancer sooner."
Congratulations David!
At Cancer Research UK, our amazing volunteers are vital to helping us beat cancer sooner.
Every month we recognise someone who has made a real impact through their volunteering, with our brand new Volunteer of the Month scheme!