General Volunteer - ASICS London 10K 2023 - 9th July 2023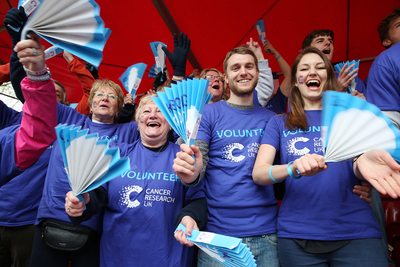 The Mall, London, SW1A 1AA
Summary
For the best view and atmosphere at this exciting event, make sure you join our cheering team and help our runners make it round the course!
Why we need you
We rely on every mile, every pound and every volunteer to bring forward the day when all cancers are cured. This includes our cheering teams, who are essential in making sure our runners reach that finish line.
Volunteer at this event and help us save lives. For just a few hours cheering, you'll be helping us to raise vital money for our pioneering, life-saving research.
Together we will beat cancer sooner.
What skills and attributes do I need to have?
Lots of enthusiasm.
The ability to make lots of noise and make sure Cancer Research UK have the loudest supporters on the course!
What will I be doing?
You will be part of our cheering team located on the race route, responsible for cheering and supporting the runners; encouraging them to keep going and beat their challenge! Please feel free to bring friends and family along to help support the team and enjoy the event with you.
What support will I be given?
We'll give you everything you need to cheer on our runners – clappers, cheering sticks, whistles and loud hailers – as well as a free Cancer Research UK t-shirt to make you stand out from the crowd. We'll also provide you with refreshments and on the day support through a Cheering Team Leader.
At Cancer Research UK we value diversity and we're committed to creating an inclusive culture where everyone is able to be themselves and to reach their full potential. We will consider making any reasonable adjustments to support volunteer applications from people with a disability or health condition. We actively encourage applications from people of all backgrounds and cultures and believe that volunteers from diverse backgrounds will help us to beat cancer.
What benefits can I expect?
The satisfaction of making a vital difference to the life-saving work of Cancer Research UK and helping us to beat cancer sooner.
For anyone looking to get into events management or the charity sector, this is a great way to get an insight as to what's involved at sports events and also develop your experience.
Meet new people and help our inspirational runners to run harder and faster – they can't do it without you.
Ready to apply?
If this role is for you, click the 'apply button' at the top of the page
More information about text formats Text format Publication date Date 01/22/2020 E.g., 01/24/2020 Admin
Why we need you
Every step we make towards beating cancer relies on every pound, every hour and every person. We need you to help us by volunteering. Play a part in this inspiring story and volunteer. Help us to create more tomorrows.
Welcome to Volunteering booklet
We want you to get the most out of volunteering with us and feel supported. The Welcome to Volunteering booklet will give you an overview of everything you need to know about your time with us.
Read our Welcome to Volunteering booklet.