Collections Guidance for Coordinators
Thank you for organising a collection!
On this page you'll find everything you need to know about our new Collections website and what you'll need to do as a coordinator of a collection.
What's it all about?
We know that having a full rota of people helping at a bucket collection means that more money can be raised. But finding enough people to help can be tricky. So we've developed a brand new site to help with recruiting extra collection volunteers. 
When? From September, anyone interested in volunteering can sign up to get sent alerts letting them know when we need their help at a collection. 
What? After someone signs up, they'll be sent an email when there's a collection near to them. If they want to sign up, they just need to give some basic information and then it's over to you to arrange the finer details of the collection day with them. 
Resources to use when you contact volunteers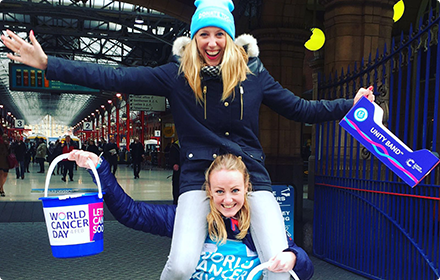 Use the information below to help when getting in touch with volunteers.
We hope that the volunteer will tell you in good time that they can't come along to your collection. Try and arrange cover using another volunteer, could someone collect for slightly longer or swap shifts? 
When you're contacting a new volunteer, explain how important their help is on the day and encourage them to arrive on time. Send a reminder to them a couple of days before the collection with everything they need to know about the day.
Let us know who turned up to collect by completing the online form we send the day after your collection. 
Ensure all the volunteers know where they are allowed to collect, in line with the permit rules
Make sure everyone carries their completed collector card and a copy of the permit throughout the collection
Use buckets instead of goblets to put money in as it's easier for people to donate.
Andy Jackson, Bradford Fundraising Team leader
You'll get an email from us the day after your collection asking for details about how it went.
We'll be asking out of the volunteers who signed up online, who turned up to collect. This is really important information to us as we want to know the impact our new site is having
Once we know who collected, we'll send an email to those volunteers to thank them for collecting
We'll also send an email to people who didn't show up asking to give us feedback 
There will also be an opportunity for you to give feedback. We'd love to know what you think so please let us know!
Get in touch to say thanks and to let the volunteers know how much was raised.
You can ask the volunteers if they'd be interested in hearing about your fundraising activities. If they are, add them to your mailing list. If they haven't asked to hear from you again, please don't contact them. We have to be careful with data protection and we're not able to get in touch people unless they've asked to be contacted.