Gain new skills by volunteering
Start developing your skills today
There's plenty to gain by volunteering at Cancer Research UK. Whether you want to build your CV, gain confidence or qualifications, we have something for everyone! 
Sumi, Chester Foregate volunteer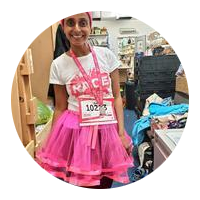 With tasks ranging from developing our social media content to ensuring the smooth running of our events, even raising awareness about cancer issues with local politicians, our roles give you the chance to gain new skills and develop existing ones. Hear from Sumi one of our volunteers at the Chester Foregate shop.
It's ace to volunteer! The shops are so friendly and have a great atmosphere. You can progress yourself and learn new skills, all whilst helping a great cause.
We can help you by offering: