Try It Triathlon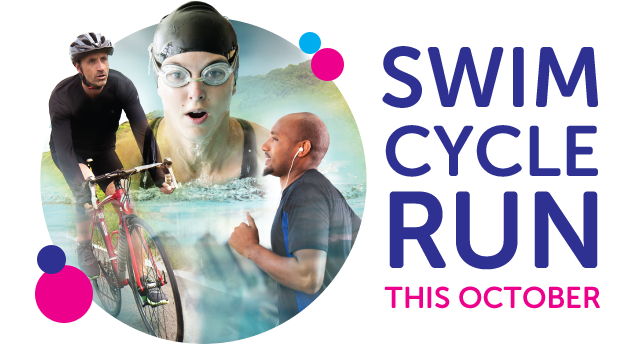 SIGN UP TO TRY IT TRIATHLON
This October, swim cycle run your way to beat cancer.
Challenge yourself to take on a triathlon your own way this October to raise money for life-saving cancer research.
Complete the distance of a triathlon in a way that's a challenge to you, whether that's all in one day or throughout the month, at the gym or outdoors.
Choose your triathlon distance below and sign up now for all the fundraising materials you need to get started.
There are four standard triathlon distances which cover all levels of fitness. Choose a challenge that's right for you and remember you can complete your triathlon over the course of the month.
Sprint triathlon
750m swim
20km cycle
5km run
Olympic triathlon
1.5km swim
40km cycle
10km run
Half triathlon
1.9km swim
90km cycle
21.09km run
Full triathlon
3.8km swim
180km cycle
42.195km run
If you don't have a GPS device, your phone will have plenty of free apps to track to distance you covered by bike and on foot. Strava, MapMyRide and Google Maps are all free and highly recommended apps that let you plan your route and track your distance for the cycling and running part of your triathlon but there are plenty more to choose from. If your swimming in a pool, make sure you calculate how many lengths you need to swim to cover your distance.
Going the distance this month will make a huge difference to your physical health and how you feel:
Even moderate exercise can build stamina, burn excess calories, give you a healthier heart and protect you against a range of diseases including cancer.
It's a great way to stay fit. Keeping an active lifestyle can reduce your cancer risk, find out more here.
Improves your mood and will give a sense of greater self-esteem, self-control and the ability to rise to a challenge.