Top Tips for your Great Golf Challenge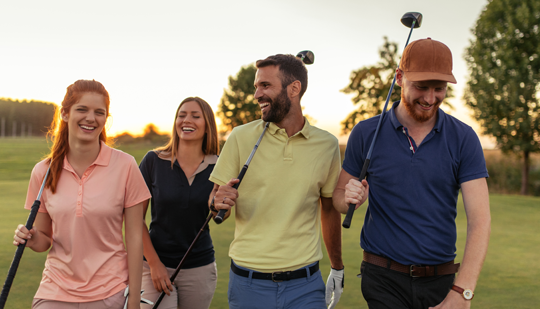 1. PLAN AHEAD
Make sure you've booked your date with your course in advance and set specific times for each round so you aren't held up. Refuel halfway by organising a lunch back at the clubhouse.
2. START EARLY
Ask your club if it's possible to tee off at first light, they may open early when you tell them you're raising money for life-saving research. If not, check out these clubs who have agreed to early opening times to support your epic challenge. 
3. LEAVE LOST BALLS BEHIND
Make the most of your time by leaving behind any lost balls, you could even agree a penalty fine with you team mates to donate to your fundraising page for every ball lost.
4. PACK ALL THE ESSENTIALS
Think about what you and your team will need on the day from sun cream to scorecards. Here's our recommendations on top of your usual golfing gear:
- Water (and plenty of it!)
- Snacks
- A towel
- Spare pair of socks
- Sunblock/waterproofs/warm clothes – dependant on the weather
- Sunglasses
- Blister kit
- Scorecards
- Pens and pencils
- Spare balls and tees
5. WEAR COMFY SHOES
Covering 72 holes is equivalent to walking roughly 20 miles so make sure you wear the right shoes. Carry out some long walks with your team beforehand to prepare for your challenge.