Race For Life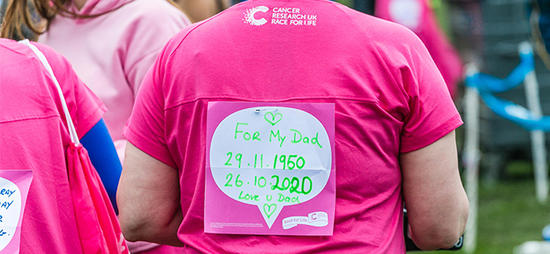 Cancer Research UK's Race for Life is a series of events raising money for research into all 200 types of cancer. Find your nearest event today.
Over the past 20 years, more than 8 million people have taken part in the Race for Life, raising over £547 million to fund the charity's life-saving work. But it doesn't stop there. 
Our events are open to everyone: women, men, children, families and friends.  
We all have a reason to Race, whether it's for your parents, your friends, your kids or yourself. Who will you Race for? 
Whatever your background or ability, there are lots of ways to be part of the Race for Life: 
3k events 
Our events aren't races, you can run, walk or jog them at your own pace. Race for Life is open to everyone regardless of your fitness level, which is why we introduced the new 3k option at just under 2 miles.  
5k events
5k is our most popular event. At just over 3 miles, it's about the same length as a Sunday stroll in the countryside. Remember, our events are entirely non-competitive, you won't be timed and most people who take part walk.
10k events
If you'd like to take part in a longer route, consider our 10k (just over 6 miles). This distance is perfect for anyone who found our 5k a bit too short, or who feels 10k is better for them.
Pretty Muddy events
Pretty Muddy® isn't like any other fundraising event. It is a muddy obstacle course for you to climb over, crawl under, and charge through, because cancer fights dirty, but so do we.