2019 Peak District Challenge
Request your sponsorship pack and join our team.
This NEW event is set to welcome 3,000 adventurers into the Peak District National Park. With a Base Camp in idyllic Bakewell, that will include camping facilities & extensive hospitality services -  and the 100km Challenge takes a tough figure of 8 route through Derbyshire's finest scenery. This gem in the Heart of England is an Ultra Challenge not to be missed...
Push yourself further - 100km Full Challenge, with Half & Quarter options also available.
You'll get full support and hospitality all the way, leaving you to focus on your challenge!
Join as Individual or Team
100km Full Challenge
Half or 1/4 Challenge options
Rest stops - free food & drink
ALL meals/ food included!
Medics, massage, and pace walkers
Medal, T shirt, glass of bubbly!
Walk at Your Pace - 24 hours+
Run or Jog - set a New Goal!
2 Day Full 'Daylight' option
Camping options available
Pre-event training support + app
It's Your Challenge - Your Way!
CHOOSE YOUR FUNDRAISING OPTION:
Charity Sponsorship – pay a small registration fee and do lots of fundraising!
Will you be running? Use code CRUKRUNNERS for a further discount.
Full Challenge - £15 reg fee + £595 in fundraising - £10 reg fee with CRUKRUNNERS
Half Challenge - £10 reg fee + £395 in fundraising - £7.50 reg fee with CRUKRUNNERS
Quarter Challenge - £5 reg fee + £245 in fundraising - £5 reg fee with CRUKRUNNERS
Sign up for the Charity sponsorship option: https://endurancecui.active.com/event-reg/select-race?e=55047954&i=7a86357d-60b7-43fa-9843-09f50b4de330
Mixed Funding – pay a higher contribution to the cost of your place and fundraise to a more achievable target.
Full Challenge - £99 reg fee + £299 in fundraising
Half Challenge - £64.50 reg fee + £199 in fundraising
Quarter Challenge - £39.50 reg fee + £119 in fundraising
Sign up for the Mixed Funding option: https://endurancecui.active.com/event-reg/select-race?e=55047954&i=1d1e6a19-9cbe-4139-99c3-86c52a83a5ad
Save 20% on your registration fee exclusively with Cancer Research UK
10% off as standard as we are a 'Partner Charity'
EXTRA 10% off on top when you use the discount code: CRUK10
 
Find out more about the route, support, and hospitality at www.ultrachallenge.com/peak-district-challenge
 
Using your fundraising page is quick, easy and free. And it means that more of the money you raise online goes towards beating cancer sooner.
Training tips and advice
We've teamed up with the experts to give you the very best training support and advice for your event.
Get your cheering pack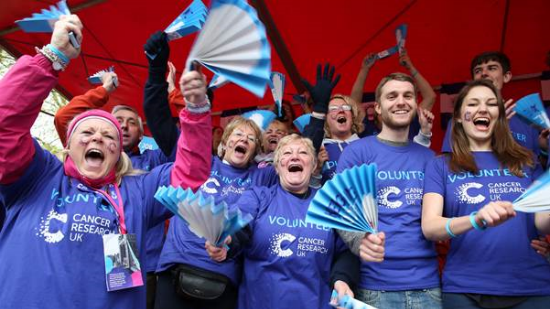 This includes a banner, clapper boards, cheering sticks, balloons, tattoos and running sacks. To get yours, email supporter.services@cancer.org.uk or call 0300 123 5461.
Get practical advice and useful tools such as planners and posters, to help you start fundraising.