Tom Simpson, Garden Designer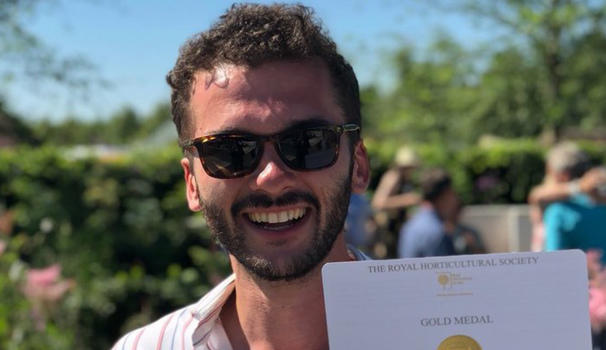 RHS Hampton Court Palace Garden Festival
Award-winning garden designer Tom Simpson is designing the Cancer Research UK Legacy Garden.
The garden will be at the RHS Hampton Court Palace Garden Festival taking place in the future.
It tells the story of how our supporters and researchers pledge to beat cancer for future generations. 
Gardens Bloom in May
May is a month of floral abundance as many of our much-loved plants burst into flower. The days are getting longer and warmer with a hint that summer is on its way. If you take a walk in your neighbourhood, you will see front gardens full of roses, peonies, lupins and many other traditional favourites of the garden. A walk in the countryside is just as abundant, with plants such as cow parsley, bluebells and foxgloves making their annual appearance. It is a month of excitement in the garden as familiar plants start to look their best and the garden begins to come into its own.
Jobs for May
Harden off half-hardy plants by leaving them outside during the day and bringing them back in a night

Trim lavender plants, cutting off old flowerheads and about an inch of this year's growth

Look after finished spring bulbs for next year – resist the temptation to cut back their dead leaves and add liquid fertiliser around the clumps for a better display next year

Time to water – best water early in the morning or later in the evening

Collect and recycle water whenever possible
All systems go!
garden 
prepared and the final details of the garden are being worked out. 
We have over 46 m2 of paving, around 20 m2 of timber decking, over 3 tons of compost, 100 m of steelwork, 8 mature trees and 2000 plants going into the garden. Much of the garden is bespoke and needs to be built prior to the show.
The most pressing task is to get the final list of plants agreed by the nursery. They will be growing all the plants, some of which are rare or unusual species.
Your garden
If you have a garden, a small outdoor space or even a window box, now is the time to think about what you want to do with the year ahead. Gardens tend to look their worst this time of year and are often bare of plants, but it is only a matter of a few weeks before life returns with force. Make the most of this quiet period and plan what you want to grow and get planting.
One of Tom's recommendations for Spring planting is Primrose (Primula Vulgaris) a semi-evergreen perennial. Find out more.
Tom tells us what it's like to design the Cancer Research UK Legacy Garden
How do you feel about working with Cancer Research UK?
I am thrilled to be working with Cancer Research UK again and hope to build on the success of last year's RHS show garden. This year's garden builds on the narrative of gifts in Wills being something everlasting. To leave a legacy gift is to leave something for the benefit of future generations. The garden will be a celebration of these gifts. It pays tribute to those who have left a gift and highlight their importance in funding research.
As a result of working with Cancer Research UK do you feel more connected to the cause?
Yes. During show week in 2019, I felt humbled by some of the stories people would tell me after visiting the garden. Some tragic, and others of survival and hope. I hadn't expected people to engage with the garden as much as they did. In some instances, people left a gift in their Will as a result of visiting the garden. This was the greatest achievement of the garden.
Before your show garden career, you were in Hollywood and even featured in films, can you tell us more?
I worked behind the camera as a crew member on a variety of television programmes and feature films. Everything from daytime BBC dramas to Oscar-winning blockbusters. I have appeared in a couple of films, but only as an extra or one time as a double for the main actor. In the Theory of Everything, starring Eddie Redmayne, I appear in one scene as the back of his head. Contrary to belief, for me working in film was never very glamorous.