How to get involved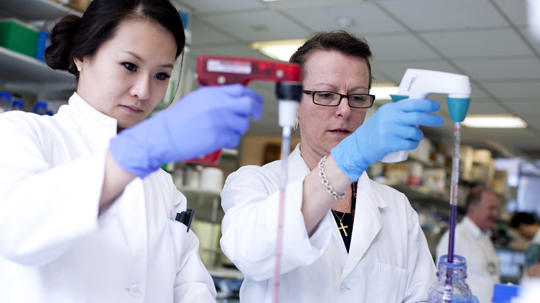 All donations to the Women of Influence initiative will be used to fund the female scientists who hold one of Cancer Research UK's prestigious Fellowship Awards. These are awarded to outstanding researchers carrying out vital work in the understanding and treatment of cancer.
Get Involved
By supporting Women of Influence, you're not only backing some of the most talented women in science, you're also helping give more people more tomorrows with their loved ones.
Ways to support this initiative:
Join us for the campaign's flagship event, Bags, Bangles and Brooches at the British Museum. We are always looking for event sponsors, prize donors, and of course, guests to join us on the night for this glamorous cocktail party.
Organise staff fundraising at your company, specifically to fund the life-saving work of our female Fellows.
Make an individual or corporate donation to the campaign and make a direct contribution to the discoveries which will enable us to understand and beat cancer.
Work in partnership with us to hold a bespoke fundraising event that will raise the profile of your brand.
Receive regular updates on the groundbreaking research you're making possible.
Have the potential opportunity to mentor one of Cancer Research UK's female Fellows.
"We are at a tipping point. You and your donations can make all the difference." ​
Tamara Box, Chair - Women of Influence

"It's going to be a great co-operation between very successful business women and women that are starting in a position of leadership in science." 
Dr Victoria Sanz-Moreno, Cancer Research UK