10 Top Tips for going vegetarian or vegan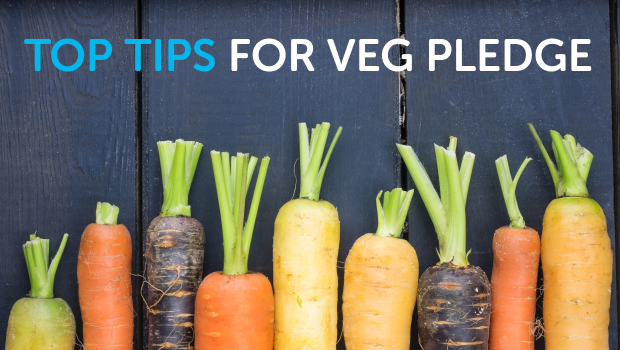 1) FIND NEW RECIPES
Going vegetarian or vegan doesn't mean you just have to stick to salads or buy a bunch of new cookbooks, there's plenty of delicious veggie and vegan recipes online. Build up your staple dishes by trying a new recipe once a week.
2) EXPERIMENT WITH NEW FOODS
Take the opportunity to branch out and try out new vegetables, pulses and grains, that you don't usually cook. You might discover a new favourite!
3) MEAT AND DAIRY SUBSTITUTES
Adapt your old favourite meat dishes into vegetarian versions. Lasagne, Shepherd's Pie and Chilli can all be made with meatless substitutes like pulses. If you are buying dairy alternatives, look for lower fat and sugar options.
4) READ UP
There are plenty of articles online about going vegetarian and stories from others that have made the switch to inspire your month. Not all information about going vegetarian or vegan is accurate, try the websites below for reliable information.
5) PLAN AHEAD
Plot out your weekly meals and add the ingredients to your shopping list so you're all ready to cook through the week. You could make a big pot of vegetarian chilli and have it in the fridge for when you don't have time to cook.
6) FIND YOUR LOCAL VEGETARIAN OR VEGAN RESTAURANTS
Give a vegetarian or vegan restaurant a go, you might discover a new dish that you want to try at home! It's also a great opportunity to explore some international cuisines, as these often offer the best veggie/vegan foods e.g. Middle Eastern, Indian, Mexican, Japanese etc. 
7) ASK WHEN EATING OUT
It's a common misconception that vegetarians have a difficult time eating out. Most restaurants these days have tasty vegetarian options on the menu and are usually happy to help if you request a dish to be altered. For vegans, if you know where you are going it can be a good idea to check in advance to see if they have a vegan option.
8) PACK VEGETARIAN OR VEGAN SNACKS
There are lots of tasty snacks you could have other than fruit and cut-up vegetables for example, hummus and pitas, plain nuts, berries with yogurt (dairy free alternative for vegans), homemade popcorn and plenty more!
9) USE HERBS AND SPICES
You'll soon discover that it's the flavour and spices that make your dishes tasty, not the meat. If you're missing bacon bits in a pasta sauce, how about adding some smoked paprika to replicate the flavour? 
10) DON'T GIVE UP!
You may find it hard at first but by the end of your meat free month you'll be a pro at cooking up a storm in the kitchen with all those vegetarian dishes under your belt.
For more information on vegetarian or vegan diets, please read the website below: