The Benefits of Veg Pledge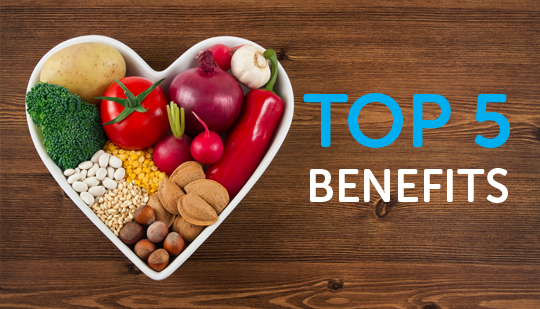 The biggest benefit of taking the Veg Pledge is that you're helping us to beat cancer with the money you raise. But it can also be fantastic motivation to be that bit healthier in the long run, which has lots more benefits.  
Here are our top picks:
REDUCE THE RISK OF BOWEL CANCER
Eating lots of processed and red meat can increase the risk of bowel cancer. If you're eating lots, it's a good idea to try and cut down. How much is too much? People in the UK have 70g a day on average - that's around 3 slices of ham – so try to stick within that.
BOOST YOUR INTAKE OF HIGH-FIBRE FOODS
When you cut down on meat, there's more room on your plate for high-fibre foods like veg, wholegrains and pulses like lentils and beans which are all high-fibre foods that reduce the risk of cancer.  
SAVE MONEY
Meat and fish is often the most expensive item in the shopping trolley. So by eating less of it, not only are you helping your own health but could also help your bank accounts!
LEARN SOME NEW RECIPES
By giving up meat and fish, you have the opportunity to learn some new, tasty vegetarian and vegan recipes that you might not have otherwise tried. There's plenty of delicious recipes online and if you try out a new one each week, you'll soon have a staple collection that you know and love.
RAISING MONEY FOR LIFE-SAVING RESEARCH
Veg Pledge is the perfect opportunity to do set yourself a personal challenge and get sponsored. The money you raise will help fund our research into 200 types of cancer. Every penny raised will help make a difference to beating cancer.