Don't Quit On Us
A campaign to take action on tobacco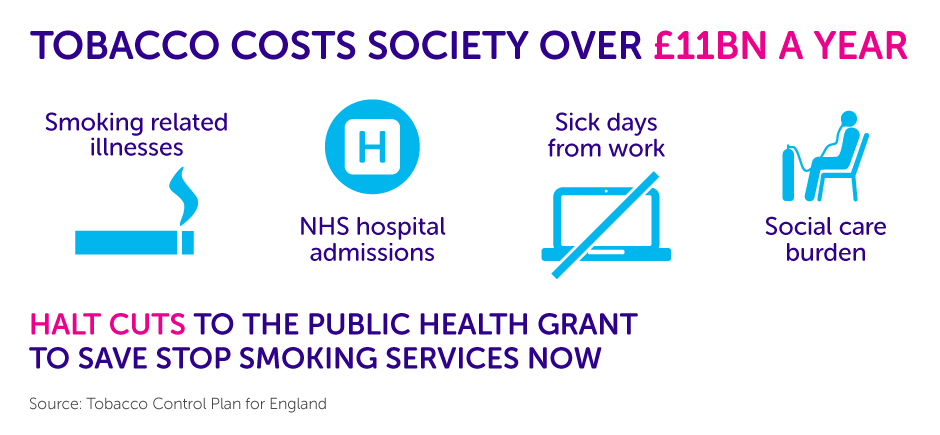 In July 2017 the Government published a new Tobacco Control Plan for England. After being without one for over a year, the new plan shows the Government's commitment to tackle the health inequalities caused by smoking, and a vision for a smoke-free generation.
Why is this important? 
Smoking is the biggest preventable cause of cancer, killing 100,000 people in the UK every year
At least 14 types of cancer are caused by smoking
Smoking costs the NHS £2billion each year
Fewer smokers mean fewer cancers, and fewer lives devastated by tobacco. Improving the health of the nation will benefit everyone, including smokers and their families, as well as our health service.
There's still more to do
Stop Smoking Services are the most effective way to help the two-thirds of smokers who want to stop smoking. But cuts to public health budgets have left local authorities in a very difficult position and struggling to deliver these vital services.
The Tobacco Control Plan recognises the importance of Stop Smoking Services but doesn't address funding challenges. If the government is serious about turning their words into action and make the final push towards realising a 'smoke-free generation', they need to find sustainable funding for public health services. We are calling for an immediate halt to Public Health Grant cuts planned until 2020/21 – which is the number one reason local authorities claim they are cutting Stop Smoking Services.
The sustainability of the NHS is at stake if demand - caused by preventable factors like smoking - isn't reduced.
Cuts to the public health grant must be halted and councils given the funding they need to deliver vital support to help more smokers quit.