How our fellowships make a difference
In the last 10 years, we have invested over £150m in fellowships, funding a diverse community of researchers, across a wide range of disciplines. Our fellowship schemes include a range of options designed to support long-term career progression, and are recognised for providing much more than the security of the funding.
Our fellowships support home-grown talent as well as attract promising scientists from around the world. We fund across a wide range of research areas and at all career levels, supporting renowned researchers at the top of their fields, as well as helping promising early career researchers to become the leaders of the future. We believe this early career support is crucial in cultivating the next generation of scientists who will bring real impact to the field.
Dr David Adams, a world-renowned researcher at the Wellcome Trust Sanger Institute, started his early research on a Career Development Fellowship (CDF). "I think the ability that first CRUK fellowship gave to work on a long-term vision was what really appealed to me. The six-year fellowship is different to a normal three-year cycle of grant funding. It gives you the support and freedom to chase the big ideas, and have the time and resources to evolve that."
Our strong community is a big part of why our fellows testify that our career support is unrivalled. We host networking events that allow our junior fellows to rub shoulders with world-leading researchers. Our scientific meetings provide opportunities to share ideas and learn from the best, and we actively help our fellows to forge new connections and collaborations.
The network of researchers CRUK draws together and the interactions they encourage is just incredible.
—David Adams
We also provide mentoring opportunities to enable our fellows to gain advice from more experienced researchers, and we assist all our fellows to do a lab management course to improve skills needed to set up and run a lab. Dr Noor Gammoh currently holds a CRUK CDF, having moved to the UK in 2014 to pursue her research career, and emphasises this important aspect of CRUK fellowships: "I get invaluable support and advice from my mentor. No matter how much training you've had before, starting your own lab is a big step, and I think having that outside window – someone who knows the challenges, but is not closely related to your work – can have a really positive effect. I can reflect with them on how my research is progressing, and the areas I need to develop, as well as get practical advice on new areas like managing finances."
Our fellowship schemes offer flexibility, with funding designed to support a range of career pathways, including both clinical and non-clinical careers, and over long-term career progression. Our early career options for non-clinicians include the CDF, open to postdocs and early career researchers, and the Career Establishment Award (CEA), to help researchers who already have a tenured position to set up as new group leaders. Both awards provide six years of funding to help researchers establish themselves and their science.
For clinicians, the Clinician Scientist Fellowship is available to researchers with less than three years' postdoctoral experience, and the Advanced Clinician Scientist Fellowship for those with more than three years' experience. Both schemes offer funding over five years.
Our two awards for the most senior researchers – the Programme Foundation Award and Senior Cancer Research Fellowship – are open to both clinicians and non-clinicians. The Programme Foundation Award is for researchers already salaried at a host institution, and the Senior Cancer Research Fellowship for those without existing salary support. These awards support the most experienced researchers to establish or further develop their own independent research group.
As David testifies, "With CRUK it is about long-term funding that allows you to pursue your own long-term vision. My initial CDF really allowed me to establish myself, I then went on to be awarded a Senior Fellowship, and in 2016 I was awarded a CRUK Programme Award. It's that long-term support that really allows you to meet your goals and produce research with real impact."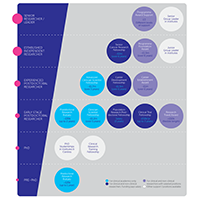 See how our funding opportunities fit together across clinical and non-clinical research career pathways in our infographic.
Where science, art and literature collide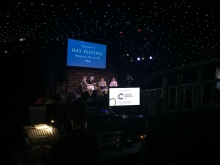 ​Inspiring new audiences to take action for CRUK means taking our research to unexpected places. The Hay Festival is an internationally-renowned gathering in a small Welsh town, bringing together the world's greatest poets, writers, comedians and thinkers to exchange views and share ideas. Last year we invited Dr Sergio Quezada, a Senior Cancer Research Fellow at UCL, to take part in one of the sessions.
The festival has a growing programme of science sessions, and in 2016 this included three events delivered in partnership with CRUK. Sergio was a member of an internationally renowned panel in a sold-out session discussing the potential for immunotherapy to revolutionise cancer treatment. Kicking off with thought-provoking introductions from the three panellists, this led onto a lively discussion amongst the audience and panel members about this fascinating area of research.
Sergio thoroughly enjoyed the experience: "Talking about science at a literature festival is amazing. You get to interact with the public and have to prepare a really lay presentation which offers a simple explanation to your very complicated work. What an experience – I would do it again many times over!"
Around 200,000 people attend the Hay Festival over the course of the week, and this particular session received national press coverage in both The Sun and Daily Mail. The partnership was an excellent way to raise our profile and share our world-class research with a new audience. Following that success we've now been invited to deliver more cancer research debates and discussions at the Hay Festival 2017.
In this article
Dr David Adams
Group Leader, Wellcome Trust Sanger Institute
Dr Noor Gammoh
CRUK Career Development Fellow, CRUK Edinburgh Centre