Our scientific capabilities — CRUK–AstraZeneca Antibody Alliance Laboratory
Our team of drug discovery experts have the skills and technology to make your project a success.
Our expertise and facilities cover the full span of early stage antibody discovery, from target validation to lead optimisation and in vivo proof of concept. We're the leading specialists in technologies including phage display and ribosome display methods, and with access to AstraZeneca's proprietary libraries, we apply these in a unique workflow for high-throughput screening, affinity maturation and phenotypic selections. We are also able to access additional capabilities from AstraZeneca related to antibody formats including antibody drug conjugates, to ensure that the antibody has a potent mechanism of action.
Our technology
Targeted and immunotherapy approaches
Whether your novel idea is to directly target the tumour or to use an immunotherapy approach, we can help.
Working with the team at AstraZeneca, we can also develop antibody drug conjugates (ADC) to deliver a warhead or toxin to cancer cells and perform Fc engineering to increase or decrease antibody-dependent cell-mediated cytotoxicity.
Phage display
Our display technology scientists perform selections using the world-class AstraZeneca phage display libraries, comprising 100 billion human antibody fragments, to identify target specific functional antibodies for your project.
Target generation
Our Protein Scientists use their expertise to express your target protein in a high quality, functional format suitable for phage display selections and high throughput screening.
Approaches for improving the drug-like properties of antibodies
Lead antibodies are affinity optimised for binding and function using either our phage or ribosome display platforms.
For academic researchers who have mouse monoclonal antibodies with preclinical efficacy, we can replace the mouse frame-work with human or perform guided selection to produce a fully human sequence to enable future clinical investigations.
We have ability to switch isotype and effector function to modify antibody properties.
Oncology biology
With access to cutting edge technologies, our in-house oncology biologists design sophisticated biochemical and cell-based assays and in vivo models to identify antibodies with the right characteristics to be a therapeutic or a diagnostic. 
Phenotypic selections
We can use Phage Display to enrich for novel monoclonal antibodies on primary cancer cell lines and de-convolute their binding specificity to find novel targets. This approach has been used previously to find new therapies for triple negative breast cancer, which is aggressive and has few treatment options.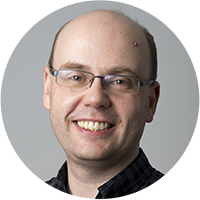 Generating antibodies to our protein has been particularly challenging and the team has performed a fantastic job in first generating protein, and now potential antibodies. This is a key resource for CRUK scientists and offers a real opportunity to develop new therapeutics from our research findings.
—Owen Sansom, Professor of Molecular Oncology and Director of the CRUK Beatson Institute