Early Diagnosis Advisory Group Project Grants
About this scheme
Key information
Career level
Post doc
Early career researcher
Established independent researcher
Clinician
Non-clinical researcher
Research area
Early diagnosis
Epidemiology
Behavioural research
Policy research
Statistics and methodology
EDAG funds policy relevant research or activities that are adding to the scientific evidence base to achieve earlier diagnosis and enable access to treatment.
Applications are accepted from UK-based researchers in universities, medical schools, hospitals, research institutions, as well as advocacy organisations, where there are appropriate academic links. Collaborations, including international ones, are encouraged.
​​EDAG provides project grants to support short term policy-relevant research that will significantly add to the evidence base and have potential to impact earlier cancer diagnosis. We welcome proposals that:
Set agendas, e.g. highlighting the importance of primary care in early diagnosis
Use innovative, multidisciplinary and rapid approaches using pre-existing data sources where necessary
Explore issues or inform policy and strategy, e.g. investigating the potential impact of broadening the scope of the Faster Diagnosis Standard (FDS)
Generate evidence supporting implementation of new policy or interventions
Monitor the impact of policy change, e.g. assessing the impact of the NICE guideline (NG12) update
The 2020 funding call is now open. See further details of the 2020 funding call.
Other applications related to early diagnosis may be within the remit of the Early Detection Research Committee.
How to apply to this scheme
The 2020 funding call is now open. See further details of the 2020 funding call.
Application process
If you would like to submit an application to this call, please contact edag@cancer.org.uk for an expression of interest form. Only expressions of interest submitted in the EDAG form will be considered.
If your expression of interest form (3 pages max) is accepted by the committee after the triage process, you will then be instructed to open an application on our online grants management system eGMS.
Before submitting a full application, please read the EDAG application guidelines.
Timelines
| | |
| --- | --- |
|   |    Deadline    |
|    Expression of Interest |       30th March 2020– 11am      |
|    Full Application |    1 August 2020    |
|    Notification of Funding Decision |    December 2020  |
|    Expected Project Start Date           |    January - March 2021 |
What makes a successful application
The EDAG Committee will judge your proposal on:
A strong policy need for the work and strong application to fulfil this need
Clear pathway between project outputs and policy impact, including strength of dissemination
Proximity to effecting clinical outcomes, and specifically effecting a shift in stage at diagnosis
Timeliness of project and results
Its strategic importance
Cancer Research UK contact details
You must contact a member of the funding team before starting your application.
Research Portfolio Manager

+44 (0)203 469 6523

Rebecca Wise

Research Portfolio Manager

+44 (0)20 3469 8164
Active Targeted Research Briefs
Qualitative Analysis Exploring Patient Experience of Risk Factors, Symptoms and Help-Seeking in Lung Cancer In Never Smokers. Research brief.
Qualitative Analysis of The Lung Health Check Information Materials Effect on 55-75-Year-Old People who Smoke. Research brief.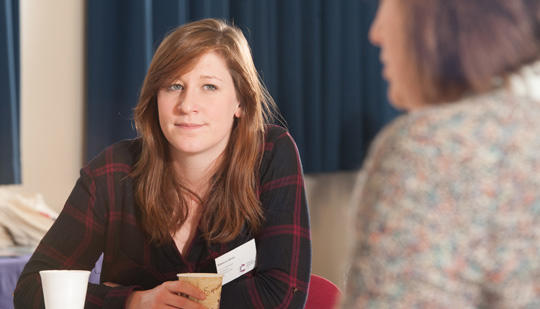 Our Patient and Public Involvement Toolkit for researchers is your resource for planning and carrying out involvement activities.
Funded projects and outputs
Find out more about the research we fund
We have a range of funding opportunities catering for a broad research community at all career stages and in any research field which can impact on earlier detection and diagnosis of cancer.