Bacterium biomarker could predict response or relapse in rectal cancer
23 June 2020
New findings from the OPTIMISTICC team suggest the bacterium Fusobacterium nucleatum could provide a biomarker for locally advanced rectal cancer (LARC). 
This is the first study to explore the bacterium's prognostic and predictive potential for LARC, building on existing knowledge that high levels of F. nucleatum are associated with poorer outcomes in people with colorectal cancer.
Only around 1 in 3 patients with LARC remain cancer-free after receiving the current gold standard treatment, nCRT — chemo-radiotherapy followed by surgery. Others either do not respond well to the treatment or are likely to see their cancer return in the future.  
Analysing samples from patients who have undergone this treatment, the team showed that people who had higher levels of F. nucleatum in their tumour biopsy were more likely to relapse. This may be caused by F. nucleatum suppressing the immune system – higher levels of the bacterium correlated with a lower number of CD8+ T cells, a component of the immune system that can destroy cancer cells.  
Although still early days, these findings could lead to new developments in the clinic: a biomarker to identify people at risk of their rectal cancer returning and potential therapies to target the bacterium or prevent the suppression of the immune system.  
The study, led by Dr. Paolo Nuciforo at Vall d'Hebron Institute of Oncology in Spain, is one aspect of the OPTIMISTICC team's programme, aiming to understand the clinical potential of modulating the microbiome.  
OPTIMISTICC'S DR LAURA PORTER SHARES INSIGHTS FROM ASCO 2020 VIRTUAL MEETING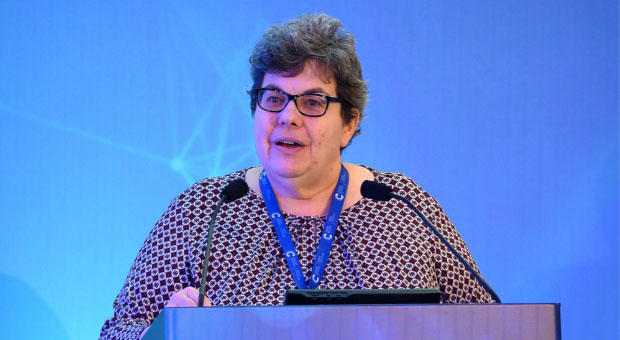 17 July 2020
Category: People & Community
Dr Laura Porter, lead Patient Advocate for the OPTIMISTCC team, reflects on her virtual experience of ASCO 2020 – the annual conference of the American Society of Clinical Oncology. Focused on colorectal cancer (CRC) she reports on what, in her opinion, were some of the most captivating findings. From the relationship between metabolic dysregulation and the rising incidence of CRC in young adults, to the value of palliative care interventions for patients enrolled in early phase clinical trials.