Public health funding
Coronavirus (COVID-19)
Cancer Research UK supports GPs to deliver best practice. We have created a central resources hub for Health Professionals which hosts all of our CRUK resources and further materials to help with managing the pandemic. We are updating the information as guidance changes. There is also a page specifically for patients on our about cancer hub.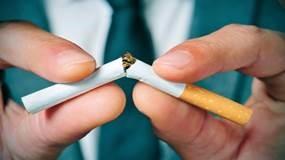 Public Health Consensus Statement
Alongside partners, we're calling on Government to provide local authorities with increased, sustainable public health funding.
The Government must provide increased, sustainable funding for public health to ensure local authorities have the resources they need to deliver vital public health services, including services to help people quit smoking.
In July 2017 the Government published a new Tobacco Control Plan for England. The plan shows the Government's commitment to tackle the health inequalities caused by smoking, and presents a vision for a smoke-free generation. The UK Government recently committed to delivering this smoke-free ambition in England by 2030.
Why is this important? 
Smoking is the biggest preventable cause of cancer, killing 100,000 people in the UK every year
At least 14 types of cancer are caused by smoking
Smoking costs the NHS £2.4 billion each year
Fewer people who smoke mean fewer cancers mean fewer cancers, and fewer lives devastated by tobacco. Improving the health of the nation will benefit everyone, including smokers and their families, as well as our health service.
There's still more to do
Stop Smoking Services are the most effective way to help the two-thirds of people who smoke want to stop smoking. But cuts to public health budgets have left local authorities in a very difficult position and struggling to deliver these vital services.
The Tobacco Control Plan recognises the importance of Stop Smoking Services but doesn't address funding challenges. If the government is serious about turning their words into action and make the final push towards realising a 'smoke-free generation', they need to find sustainable funding for public health services. We are calling for the Government to provide a long-term, increased and sustainable funding settlement for public health at the next Spending Review.
Consensus across the health and local government sector
Our call for increased and sustainable public health funding is shared by organisations across the health and local government sector. The impact of year-on-year cuts to public health has been felt across a wide range of public health functions and services—including smoking cessation services, drug and alcohol services and mental health services—and is putting the sustainability of our NHS at greater risk.
To demonstrate our consensus, more than 80 health and local government interest groups, have endorsed a 'consensus statement' calling on the Government to provide local authorities with adequate funding to deliver services that prevent ill health, reduce health inequalities and support a sustainable health and social care system.
View our Consensus Statement on Sustainable Funding for Public Health to Government.
To further build on the consensus across the sector and demonstrate the importance of local public health funding in the context of the COVID-19 pandemic, in coalition with partners, Cancer Research UK submitted a joint representation to the UK Government's Comprehensive Spending Review in September 2020. The statement, supported by over 50 organisations, makes a clear recommendation to the UK Government to provide an increased, long-term and sustainable funding settlement to local authorities as a priority.
View the Joint Statement on local public health funding that was submitted as evidence to the Comprehensive Spending Review.
Our action so far
November 2020: We have signed a letter, alongside 49 other organisations, asking the Chancellor Rishi Sunak for a levelling up of public health funding in the upcoming spending review in the face of the worst public health crisis of our lifetime.
September 2020: Alongside more than 50 partners, Cancer Research UK demonstrated the need for an increased, long-term and sustainable funding settlement for local authorities via a joint submission to the 2020 Comprehensive Spending Review.
October 2019: Alongside partners from across the sector, we responded to the Government's prevention green paper consultation and called for a long-term, increased and sustainable funding settlement for public health as a matter of urgency at the next Spending Review. Without this, we argued that local authorities will not be able to provide important preventative functions and services, and the Government's ambitions in the prevention green paper will not be realised. 
September 2019: Chancellor Sajid Javid announced a modest 1% real terms uplift to the 2019/20 public health grant in the Spending Round. While a welcome change after years of cuts, this will not be enough to fill the current funding gap.
August 2019: Over a third of upper-tier council leaders signed an open letter to the new Government calling for increased public funding. The letter, coordinated by Cancer Research UK, received support from across the political spectrum and from Cllr Ian Hudspeth, Chair of the Community Wellbeing Board at the Local Government Association.
May 2019: Over 80 public health and local government interest groups called on the Government to deliver increased, sustainable funding as a priority at the 2019 Spending Review.
April 2019: Cancer Research UK, alongside the Association of Directors of Public Health, Mind and Terrence Higgins Trust submitted written evidence to an inquiry, outlining how cuts to local funding are impacting the delivery of vital public health services provision.
2017 - 2018: Despite pressure, the Government's public health grant allocations continued to be cut in 2018/19 and 2019/20.
January 2016 – February 2017: We ran our Don't Quit On Us Campaign, calling for the tobacco industry to pay for the damage they cause via a levy to raise funds for local tobacco control, and for the Government to halt cuts to the public health grant.