Improving the effectiveness of multidisciplinary team meetings in cancer services
Coronavirus (COVID-19)
Cancer Research UK supports GPs to deliver best practice. We have created a central resources hub for Health Professionals which hosts all of our CRUK resources and further materials to help with managing the pandemic. We are updating the information as guidance changes. There is also a page specifically for patients on our about cancer hub.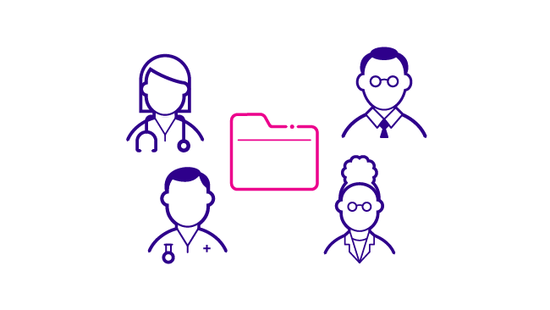 MDT meetings
Our research aiming to improve the effectiveness of MDT meetings in cancer services.
The 2015 Cancer Strategy for England described MDTs as the 'gold standard' of cancer services, bringing a range of experts together to make treatment recommendations in a weekly meeting. However, there has been a growing demand on MDTs, owing to an ageing population and rising patient complexity. Despite this, there has been little increase in capacity – so they are under growing pressure. As a result, there is not always enough time to discuss patients at length, to involve more than a few health professionals or all relevant information. 
Central to the UK's cancer services are multidisciplinary teams – MDTs. An MDT is made up of a variety of health professionals involved in treating and caring for patients, such as surgeons, clinicians, nurses and diagnosticians. Each week, the MDT meets to discuss individual patients' cases and make treatment recommendations.
MDT working is considered the gold standard for cancer patient management[1], bringing continuity of care and reducing variation in access to treatment – and ultimately improving outcomes for patients. However, the health service has changed significantly since their introduction in 1995.
The number of patients to be discussed in MDT meetings has grown significantly, as has the complexity of patients; due to an ageing population and the growing number of treatment options available.
However, the way that MDT meetings are organised has not adapted to cope with this increased demand. To reflect the changing nature of cancer care and the increased demand for services, there is a need to refresh the format of MDT meetings to make them work more effectively.
Meeting patients' needs: improving the effectiveness of multidisciplinary team meetings in cancer services highlights the need to refresh the format of multidisciplinary team meetings. The report contains several UK-wide recommendations, aiming to streamline and optimise MDT meetings in order to better meet the needs of patients today and in the future.
This research involved observations of 624 patient discussions in MDT meetings across the UK, two surveys of MDT members – gaining 2,300 and 1,250 responses respectively – and a survey of people affected by cancer.
References