Intern Interviews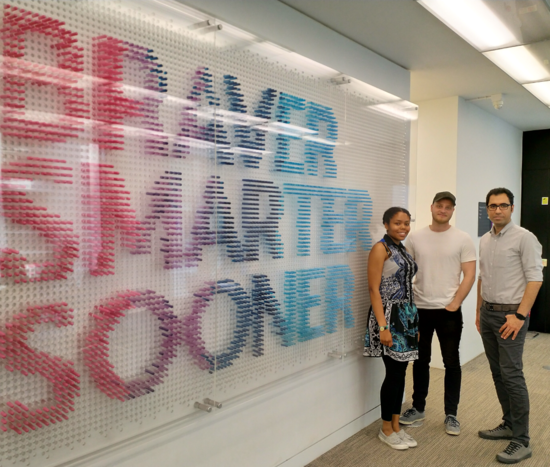 Sarabjoyt and Emily: Corporate Partnerships Interns
Matt, Lizette and Magnus: Technology and Innovation Interns
Sarabjoyt and Emily are the Summer 2018 interns in the Corporate Partnerships Team. We asked them about their experience so far.
What is it about corporate partnerships that interests you the most?
Sarabjoyt: The aspect that excited me most was the chance to gain an insight into CRUK and their sector leading partnerships and projects. The Corporate Partnerships role is really varied and offers so much in terms of personal development because you get to work with lots of different people on such diverse partnerships. For example, I'm getting the opportunity to work with innovative Stand Up To Cancer partners, exciting international projects and much more.
Emily: I have a lot of experience in the corporate world at various law firms and investment management companies so thought this would be a good way to merge my two interests, the corporate world and the charity sector. I thought it would be interesting to work on the other side for once and see how CRUK manages to engage corporates to invest their time, money and employees. Also, being part of a team which is at the core of fundraising here at CRUK and which brings in such vast sums of money is incredibly exciting.
What project(s) are you currently working on? Can you describe a typical day in your role?
S: I am currently working on a research project which I am really enjoying. I am looking into Corporate Partnerships across the sector, and researching which partnerships are award winning and innovative. I am also about to start work on The Grand Challenge which is CRUK's international research project and supporting across all the Stand Up To Cancer partnerships ahead of this year's live show. No day is ever the same, I am always on my toes! I could be in internal meetings with the Corporate Partnerships team or in external meetings with CRUK's partners, working on my research project, meeting with members of staff to discuss their projects and how I can support them, replying to emails and shadowing staff across the organisation to get a real overview of CRUK and its varied work.
E: I am working on a huge variety of projects at the moment. I am organising an internal event on sun safety with Nivea, I am updating our partner, The Works, on what is going on with their partnership, I am supporting a fundraising dinner for Edwardian Hotels and arranging lots of different sport events places for our partners. I also have an ongoing project about different corporate partnership awards. So far, every day has been different on my internship. I have frequent catch-ups with my line manager and have spent a lot of time so far meeting different account managers to hear about their specific partners. As well as this, I have been to different training sessions and meetings throughout the week, one highlight being a training session at Channel 4's offices to discuss the upcoming Stand Up To Cancer telethon. On top of all this, I am involved in a variety of projects for huge corporate partners, which will include email correspondence, phone conversations, creating newsletters and so on.
What are you enjoying most about your role?
E: The variety is something that has stood out about the role so far as no day is ever the same and you are constantly working with new teams and people, learning from them and picking up new skills. The fact that everyone in the team is willing to get me involved with their partners and their work is also really encouraging and shows that they are really invested in their interns. Additionally, I am working with some huge corporates, the likes of TK Maxx and Nivea, who really have the potential to raise incredible amounts of money which can go on to fund ground-breaking research. Not only do these corporates fundraise, but they also send out very important health messages, which play a vital role in society. 
S: For me it's the fantastic experiences. I am not sure where else I could work as an intern where staff are so welcoming and helpful and I would have such interesting projects to work on! As an intern, I have access to training days and flexi time and other benefits so as CRUK's first paid interns, it is a really exciting time to be here!
What is the atmosphere like in your team?
E: There is a very relaxed yet hard-working atmosphere in Corporate Partnerships. People are very willing to chat about the work they do here and help you out with anything that you may need. Everyone in the team is very approachable and eager to get you involved which is so important when you are an intern.
S: I was initially apprehensive as this would be my first official 'job' after university. But there was no need to be as everyone is so approachable and supportive. In my first two weeks I got to book in a lot of catch ups with various team members. This was a great opportunity to get to know the team as well as gain an understanding of their projects. The Corporate Partnerships team are all passionate and share CRUK's values and visions, which motivates everyone to be driven and hard working.
What advice would you give someone applying for the Fundraising Partnerships Stream?
E: Show interest in Cancer Research UK itself and current research projects that we are funding as this shows you have gone above and beyond the norm. I would also demonstrate any skills that you have picked up at school, university or work experience which exhibit the qualities that the fundraising partnerships stream are looking for. This can include innovation, communication, organisation, leadership and resilience.
S: Don't be worried about applying, in fact make sure you do! A broad skill-set which you are willing to work on and develop alongside a can-do attitude can go a long way! There are so many possibilities and opportunities that have already been offered to me and I am only two weeks in. I was surprised to get here myself, with a strong sense of imposter syndrome, however I am thrilled to be here. As cheesy as it sounds- this could be you in the next intake of interns!
What are you hoping to do after your internship?
S: I want to stay within the Charity sector, whether that is at CRUK or with Charityworks graduate scheme or another charity, I'm not sure yet. I just want to make the most of this opportunity and learn as much as I can in the time left!
E: I am still unsure as to what I am going to do after the internship but I know that my three months here will equip me with a broad range of skills that will aid me in any career I choose in the future.
If you want to know more about our Fundraising Partnerships stream read our Internship Information Pack. 
Meet Matt, Lizette and Magnus. They are interning in our Technology and Innovation teams. 2 weeks into their internship, we interviewed them about their experience so far.
What is it about technology that interests you the most?
Lizette: Technology is always evolving, and there is a lot to explore and learn. There are so many different aspects of tech, so there is always something new to discover.
Magnus: For me it's all about how technology contributes to faster processes and the benefits it brings to overall improvement.
Matt: I have always been into technology, when I was in high school, I bought my first computer without knowing much about it, 5 month later, I started working in a computer shop assembling, installing and troubleshooting desktops for normal and business customers. I've always kept myself up to date by reading technology magazines, searching online and taking different courses to gain different qualifications.
What project(s) are you currently working on? Can you describe a typical day in your role?
Matt: I'm part of the 'delivering the future' project. In this project, we rollout new devices such as laptops to a large group of people. This requires auditing, planning, delivering and training. My day starts by checking emails and any upcoming meetings for the day and completing any pending task. I try to make connections with new people and try to get involved in different projects. I often attend project and training meetings to learn more about all aspects of each project, how to approach them and how to manage and deliver a project.
Magnus: I'm researching voice technology and emerging technology trends and creating an innovation toolkit for tech exploration. My typical day depends on what stage a piece of innovation is at. However, lately my focus has been on testing the Google Assistant development kit's capabilities and limitations.
Lizette: My role is to help the IT Service Desk to solve technical problems and allocate the work to the appropriate teams by creating incident and request tickets. I start the day by answering any outstanding emails and looking at meeting requests. I also make sure that I am logged into all relevant platforms needed to complete my daily tasks. I also attend various meetings throughout the day, network with other teams, and shadow a variety of my colleagues. 
What are you enjoying most about your role?
Lizette: My role is very flexible. The ability to work on different projects and engage with a variety of teams, in order to further develop my skills, is very enjoyable.
Magnus: I'm enjoying the access to technology and work regarding improving innovation processes and systems.
What is the atmosphere like in your team?
Magnus: The atmosphere is good, we spend some time talking to each other about ideas, tech and future improvements to CRUK using tech.
Matt: I'm in a very friendly and supportive team. Everyone always encourages us to get involve in different projects. Everybody is willing to help us at any time.
What advice would you give someone applying for the Technology and Innovation Stream?
Magnus: Keep an open mind and learn as much as you can.
Matt: Read the job description very carefully and give clear and to the point answers. Use the STAR method when completing your application and during the interview.
Lizette: I would advise you to research the company and incorporate that knowledge into your answers. Lastly, be passionate about tech!