A trial looking at a new way to give alemtuzumab for B cell chronic lymphocytic leukaemia (CAM203)
Coronavirus (COVID-19)
We know that this is an especially worrying time for people with cancer and their family and friends. We have separate information about coronavirus and cancer. Please read that information alongside this page. We will update that information as guidance changes.
Please note - this trial is no longer recruiting patients. We hope to add results when they are available.
Cancer type:
Chronic lymphocytic leukaemia (CLL)
Who can enter
You can enter this trial if you
Have a raised number of lymphocytes, low numbers of platelets and red blood cells, and enlarged lymph nodes, liver or spleen – you can check with your doctor
Have other satisfactory blood tests
Have had at least one course (regime) of treatment for your B cell CLL (but no more than 5 regimes)
Are well enough to take part (performance status 0, 1 or 2)
Are willing to use reliable contraception during the trial, and for at least 6 months afterwards, if there is any chance that you or your partner could become pregnant
Are at least 18 years of age
You cannot enter this trial if you
Have B cell CLL which has spread to your brain or spinal cord (central nervous system)
Have had chemotherapy in the last 3 weeks, or have not recovered from any severe side effects
Have had a bone marrow transplant
Have had treatment in another clinical trial in the last 3 weeks, and have not recovered from any severe side effects
Have had alemtuzumab (Campath) before
Have had a sudden, severe allergic reaction ('anaphylactic shock') after antibody treatment of a similar type to alemtuzumab (Campath)
Have a severe heart or lung condition
Are taking steroids for a long term medical condition (please note, you should not stop taking steroids without talking to your doctor)
Have a condition where your red blood cells are being destroyed (haemolysis) – you can check this with your doctor
Have had an infection called cytomegalovirus (CMV) - you can check this with your doctor (if you have this treated you may still be able to take part)
Have Hepatitis B, Hepatitis C or HIV
Have had tuberculosis (TB) in the last 2 years
Have an uncontrolled infection
Have any other condition that would make you unwell if you took part – you can check this with your doctor
Are pregnant or breastfeeding
Trial design
This is a phase 2 trial. It will recruit about 85 people worldwide into 3 groups. Everyone will have a course of Campath injections, lasting up to 18 weeks.
Group 1 will recruit 10 people. You will have a Campath injection just under your skin every day, starting with a low dose. If you don't have any side effects with this dose, you have a higher dose. And so on, until you reach the target dose of Campath. This is called 'dose escalation'. You then have injections at the target dose 3 times a week until you have had up to 18 weeks of treatment.
Group 2 will recruit 10 people. You will start Campath injections at the target dose. You have these 3 times a week for up to 18 weeks.
Researchers will monitor both groups and decide the best dose and treatment pattern. If you join the trial after this point, you will be in group 3. You will have Campath injections following the new dose and pattern.
As well as Campath, you will take 2 other types of medication. These are to help prevent an allergic reaction. And to help protect you from certain infections during your course of Campath. Nurses will also monitor your blood pressure, pulse and temperature before and after each injection for the first 3 weeks.
Hospital visits
Before you start the trial, you will see the doctor and have some tests. These tests include
Physical examination
Blood tests
Chest X-ray
Pregnancy test (if appropriate, before trial only)
You will have a physical examination and blood tests again about every 4 weeks, from a month after you start Campath to 6 months after you finish treatment. You will also have the other tests in this list if you need them.
On the first day of each week of treatment, you will see the doctor and have a blood test. You will visit the hospital for each Campath injection for the first 3 weeks. The nurse will monitor you for 2 hours after each injection. After this time, you may be able to have Campath injections at home. But you would still need to see your doctor for tests at the start of each week. You can discuss this with your trial team.
Unless your cancer has come back, you will see the doctor every 3 months until the end of the trial. Your doctor may repeat any of the tests you had before the trial. If you start another treatment plan, you will just have a blood test at these appointments.
Side effects
One of the reasons for this trial is to learn more about giving alemtuzumab (Campath) as an injection under the skin. So there may be side effects the trial team do not know about yet. Side effects of alemtuzumab given through a drip into a vein include
A drop in blood cells, causing an increased risk of infection, bleeding problems, tiredness and breathlessness
Chills and shaking (rigors)
Rash
Headache
A drop in blood pressure which may cause dizziness
Severe tiredness (fatigue)
Loss of appetite
Shortness of breath
Itchy skin
Increased sweating
You may also a have reaction where you have your alemtuzumab injection. This could include pain, itching, rash, swelling or damage to your skin tissue.
The trial team will monitor you closely. You will have medication to try to prevent or limit these side effects.
Side effects of bone marrow tests include discomfort and bruising at the site where the marrow is taken. Very rarely you may also have bleeding, infection and pain. If you have a sedative

before these tests you may have an allergic reaction, but this is very rare.
How to join a clinical trial
Please note: In order to join a trial you will need to discuss it with your doctor, unless otherwise specified.
Please note - unless we state otherwise in the summary, you need to talk to your doctor about joining a trial.
Supported by
Experimental Cancer Medicine Centre (ECMC)
Genzyme Therapeutics
Questions about cancer? Contact our information nurses
CRUK internal database number:
Please note - unless we state otherwise in the summary, you need to talk to your doctor about joining a trial.
Cara took part in a clinical trial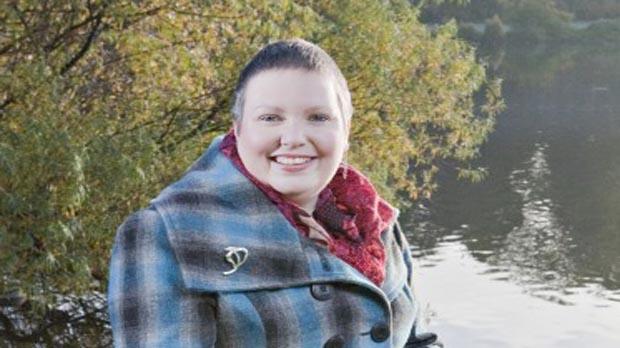 "I am glad that taking part in a trial might help others on their own cancer journey."