A trial of panobinostat for acute myeloid leukaemia that is not responding to treatment
Please note - this trial is no longer recruiting patients. We hope to add results when they are available.
Cancer type:
Acute myeloid leukaemia (AML)
This trial is looking at panobinostat (also known as LBH589) for acute myeloid leukaemia (AML) that is not responding to other types of treatment.
Doctors usually treat AML with chemotherapy. The aim of treatment is to get rid of the leukaemia (getting it into remission

) and then to stop it coming back. But sometimes the leukaemia does come back. It is then more difficult to get into remission again.
Unfortunately AML doesn't always respond to treatment and researchers are always looking for new treatments to use in this situation.
Panobinostat is a drug that blocks enzymes

called deacetylases (pronounced dee-as-et-isle-azes). Cells need these enzymes to grow and divide. Blocking them can stop leukaemia cells growing.
The aims of this study are to
Find out how much panobinostat helps people with AML that is not responding to treatment
Learn more about the side effects
Who can enter
5You can enter this trial if you
Have acute myeloid leukaemia (AML) and have had at least one type of induction treatment
Did not go into complete remission when you had induction treatment, or you went into remission, but your AML came back within a year
Cannot have more treatment to try and get you into remission, or you have had more treatment but if hasn't helped you
Have satisfactory blood test results
Are well enough to be up and about for at least half the day (performance status 0, 1 or 2)
Have recovered from side effects of other treatments for AML
Are willing to use a reliable method of contraception during the trial and for 3 months afterwards if there is any chance you or your partner could become pregnant
Are at least 18 years old
You cannot enter this trial if you
Have leukaemia that has spread to your brain
Have had treatment such as radiotherapy or chemotherapy for another cancer in the past, and the trial doctors think this has caused your AML
Have already had more than 3 types of induction treatment
Have finished other treatment for AML in the last few weeks and there is a chance that any of the drugs could still be in your body
Have taken part in another clinical trial in the last 2 weeks
Are having any other biological therapy
Take an epilepsy drug called valproic acid and you would be unable to stop it at least 5 days before starting the study drug (it is important that you don't stop taking this type of medication without talking to your doctor)
Are having treatment for side effects of bone marrow transplant such as graft versus host disease
Need to take steroids or a drug called hydroxyurea in the 24 hours before starting the study drug
Have another cancer apart from non melanoma skin cancer or carcinoma in situ that has been treated, or any other cancer that was successfully treated at least 3 years ago
Have had a heart attack or heart pain (angina) in the last 6 months, have any other heart disease that is a cause for concern, or take any medication that could affect your heart (the trial doctors can advise you about this)
Have any other serious medical condition
Can't swallow or absorb capsules for any reason
Are known to be HIV positive
Are pregnant or breastfeeding
Trial design
This is a phase 2 trial that will recruit up to 164 people. Everybody who joins the trial takes panobinostat capsules. You swallow them with a large glass of water on 3 days a week. As long as you don't have any bad side effects, you can carry on having panobinostat for as long as it helps you.
The trial team will ask you to fill out a questionnaire before you start treatment, every 2 months during treatment, and when you finish treatment. The questionnaire will ask you about any side effects you have had and about how you have been feeling. This is called a quality of life study.
Hospital visits
You will see the trial doctors and have some tests before you start treatment. The tests include
Physical examination
Blood and urine tests
Chest X-ray
Heart trace (ECG )
Heart ultrasound (echocardiogram ) or MUGA scan
The doctors call each 4 week period of treatment a cycle of treatment. You go to hospital
6 times in the first cycle of treatment
5 times during the next 5 cycles, then
Twice in each cycle after that
On some of the days you go to hospital, you take the panobinostat capsules while you are there. You have blood tests at each visit. You also have a number of ECGs and some bone marrow tests during the trial.
When you finish treatment, you see the trial doctors and have another bone marrow test, an ECG and more blood tests. The trial team will then contact you by phone every 3 months to see how you are.
Side effects
As panobinostat is a new drug, there may be side effects that we don't know about yet. Possible side effects include
Panobinostat can also cause changes to the electrical rhythms in your heart. The trial team will keep a close eye on this during your treatment.
If you have side effects, the trial team can reduce the dose of panobinostat you take.
You must not eat Seville oranges (including marmalade) or grapefruit (or drink the juices) during the trial.
How to join a clinical trial
Please note: In order to join a trial you will need to discuss it with your doctor, unless otherwise specified.
Please note - unless we state otherwise in the summary, you need to talk to your doctor about joining a trial.
Supported by
Experimental Cancer Medicine Centre (ECMC)
NIHR Clinical Research Network: Cancer
Novartis
CRUK internal database number:
Please note - unless we state otherwise in the summary, you need to talk to your doctor about joining a trial.
Around 1 in 5 people take part in clinical trials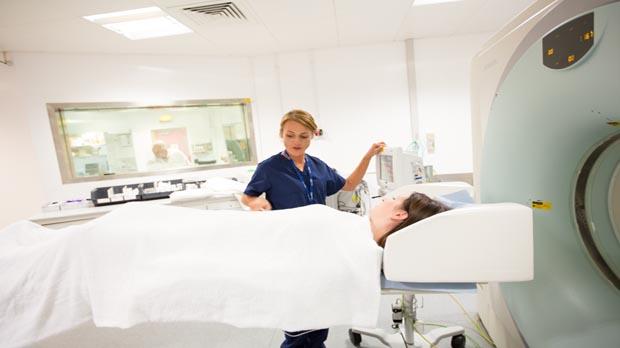 Around 1 in 5 people diagnosed with cancer in the UK take part in a clinical trial.