A trial of vistusertib and paclitaxel for women with ovarian cancer that has come back (OCTOPUS)
Please note - this trial is no longer recruiting patients. We hope to add results when they are available.
This trial is looking at a new drug called vistusertib and weekly paclitaxel chemotherapy for ovarian cancer that has come back. It is for women who have
These cancers are treated in a similar way. When we use the term ovarian cancer in this summary, we are referring to all 3. This trial is supported by Cancer Research UK
More about this trial
Doctors usually treat ovarian cancer with surgery followed by chemotherapy. The chemotherapy often includes a platinum drug

such as carboplatin. If your cancer gets worse within 6 months of having this treatment, it is called platinum resistant. You may then have treatment with a taxane

chemotherapy drug called paclitaxel. But sometimes the cancer starts to grow again. So researchers are looking at ways to delay this.
In this trial, they are looking at vistusertib. It is a type of biological therapy. It is a cancer growth blocker. It stops signals that cancer cells use to divide and grow. 
Doctors know from research that having paclitaxel and vistusertib together may control the cancer for longer. But they want to find out more. In this trial, everyone has paclitaxel and some people have vistusertib. 
The aims of the trial are to 
Find out if adding vistusertib to weekly paclitaxel is a useful treatment for ovarian cancer
Learn more about the side effects
Find out how it affects quality of life
Who can enter
The following bullet points list the entry conditions for this trial. If you are unsure about any of these speak with your doctor or the trial team. They will be able to advise you. 
You may be able to join this trial if all of the following apply. 
A tissue sample (biopsy ) taken shows you have ovarian cancer, fallopian tube cancer or primary peritoneal cancer that is high grade serous
Your cancer did not respond to platinum chemotherapy or continued to grow within 6 months of having this treatment (it is platinum resistant or platinum refractory)
Your cancer can be seen on a scan
The trial team can test a sample of tissue (biopsy ) that was removed when you had your ovarian cancer surgery or you are willing to have a sample of tissue taken
You are willing to have a further tissue sample taken before you start treatment
You are well enough to take part (performance status 0 or 1)
You have satisfactory blood test results
You are willing to use reliable contraception during treatment and for 6 months afterwards if there is any chance that you could become pregnant
You are at least 18 years old
You cannot join this trial if any of these apply. You
Have cancer has spread to your spinal cord or brain unless it has been treated, you have no symptoms and your condition has been stable for at least 4 weeks
Have a tumour that isn't high grade serous
Have already had weekly paclitaxel for platinum resistant ovarian cancer
Have had any cancer treatment including experimental drugs in the 2 weeks before joining the trial
Are having medication called warfarin to thin your blood. You may take part if you are having another blood thinning medication called heparin
Are having growth factors such as G-CSF or GM-CSF,   apart from long term erythropoietin or you have a blood transfusion within 2 weeks of starting trial treatment
Are an inpatient in hospital
Have a condition called interstial lung disease
Have a problem with your liver or kidneys
Have a serious heart problem
Have had an abnormal heart rhythm called torsades de pointes in the last year
Have high blood pressure that isn't well controlled with medication
Have problems with bleeding
Have had a severe allergic reaction to paclitaxel in the past
Have an active hepatitis B or C infection or you are HIV positive
Have any side effects from previous treatment that haven't resolved apart from hair loss
Have had major surgery in the last month or minor surgery in the last 2 weeks
Have recently had a blood clot in your leg (a deep vein thrombosis) or a blood clot in your lung (a pulmonary embolism)
Are pregnant or breastfeeding
Trial design
This is a phase 2 trial. The researchers need 140 women to join. 
It is a randomised trial. The people taking part are put into treatment groups by a computer. Neither you nor your doctor will be able to decide which group you are in. And neither of you will know which group you are in. This is called a double blind trial.
One group have weekly paclitaxel and vistusertib
The other group have weekly paclitaxel and a dummy drug (placebo )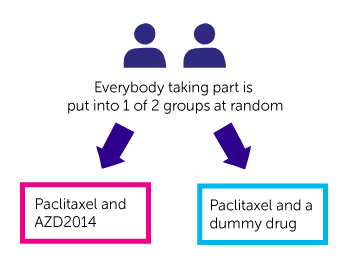 You have paclitaxel as a drip into a vein. You have treatment once every week for 3 weeks and then a week without treatment. It takes about an hour each time. You have paclitaxel for about 6 months. You may have treatment for longer if it is helping. Your doctor will tell you more if this applies. 
Vistusertib and the dummy drug are tablets. You take vistusertib or the dummy tablets twice everyday for 3 days each week. You start taking the tablets on the same day you have paclitaxel. You have them for 3 weeks and then you have a week without treatment. 
When you finish chemotherapy, your doctor may decide that you can continue with the tablets. This is called maintenance treatment. You have the tablets every day. You continue having them as long as it is helping you and the side effects aren't too bad.
Quality of life
The trial team will ask you to fill out a questionnaire before you start treatment and at set times during treatment and after you finish treatment. The questionnaire will ask about side effects and how you've been feeling. This is a quality of life study. 
Research samples
You have extra blood tests as part of this trial. Where possible you have these at the same time as your routine blood tests. The researchers want to look for substances called biomarkers

to find out why treatment might work for some people and not for others. They are also looking for changes in genes (mutations

) that may have been passed down by your parents.
The researchers may also ask to take biopsies of your cancer at the beginning and during treatment. They will look for biomarkers and they may use the sample for other tests in the future.
If you don't want to give these samples for research, you don't have to. You can still take part in the trial.
Hospital visits
You see the doctor to have some tests before taking part in the trial. These include
Blood tests
Urine tests
A heart trace (electrocardiogram )
Heart scan (Echocardiogram or MUGA )
You have your chemotherapy at the hospital. 
If you continue with the maintenance part of the trial you go to the hospital once a month for a check up until you stop treatment.
When you finish treatment the trial team will follow you up every month to see how you are getting on. You have a CT scan or a MRI scan every 2 months.
Side effects
Vistusertib is a new drug and there may be some side effects we don't know about yet. The trial team will monitor you during the time you have treatment and you will be given a phone number to call them if you are worried about anything.
The most common side effects of vistusertib so far include
Tiredness (fatigue)
Sore mouth or throat and difficulty swallowing
Changes to liver function blood tests
High levels of sugar in the blood
Low levels of red and white blood cells
Heart problems for example it may cause the heart to beat faster
Weight loss or loss of appetite
Possible changes to the way your kidneys or adrenal glands work
It is possible that taking vistusertib can make you more sensitive to sunlight. You should avoid going out in the sun for long periods during treatment and for 3 months afterwards. You should use adequate sun protection and avoid using sunbeds or tanning booths.
You cannot take St John's wort, milk thistle or cannabis oil while taking part in the trial. These drugs might interact with vistusertib. The trial team can tell you more about this. 
We have information about paclitaxel.
How to join a clinical trial
Please note: In order to join a trial you will need to discuss it with your doctor, unless otherwise specified.
Please note - unless we state otherwise in the summary, you need to talk to your doctor about joining a trial.
Supported by
AstraZeneca
Cancer Research UK
Experimental Cancer Medicine Centre (ECMC)
University of Glasgow
NHS Greater Glasgow and Clyde
Other information
This is Cancer Research UK trial number CRUKE/14/052.
CRUK internal database number:
Please note - unless we state otherwise in the summary, you need to talk to your doctor about joining a trial.
Around 1 in 5 people take part in clinical trials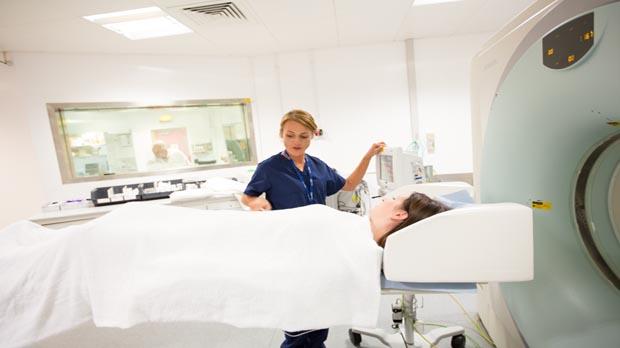 Around 1 in 5 people diagnosed with cancer in the UK take part in a clinical trial.