A trial of atovaquone and chemotherapy alongside radiotherapy for non small cell lung cancer (ARCADIAN)
Cancer type:
Non small cell lung cancer
This trial is looking at atovaquone with chemoradiotherapy. It is a trial for people with non small cell lung cancer that has spread into the nearby tissue.
Chemoradiotherapy

 is having chemotherapy and radiotherapy together. Doctors use chemoradiotherapy to treat non small cell lung cancer. 
Cancer Research UK supports this trial.
More about this trial
Cancer cells divide and grow quickly. Because of this some areas in the cancer have very little oxygen. This lack of oxygen can make cancers grow more quickly. It can also make it difficult to treat the cancer especially when using radiotherapy. 
Atovaquone is a drug doctors use to treat certain infections. We know from research that atovaquone can increase the amount of oxygen in cancer cells. Researchers think that adding atovaquone to chemoradiotherapy can help it work better. They are looking at it for people with non small cell lung cancer. 
To find out if it does make the chemoradiotherapy work better they need to do a large clinical trial

. Before this they need to find the best dose of atovaquone to give with chemoradiotherapy. This is a dose escalation study

. 
Everyone in this study will have atovaquone with their chemoradiotherapy. 
The aims of this study are to find:
the best dose of atovaquone to give with chemoradiotherapy 
out about the side effects of giving atovaquone with chemoradiotherapy
Who can enter
The following bullet points are a summary of the entry conditions for this trial. Talk to your doctor or the trial team if you are unsure about any of these. They will be able to advise you. 
Who can take part
You may be able to join this trial if all of the following apply. You:
have non small cell lung cancer that has spread into the nearby tissue
are having chemoradiotherapy 
have an area of cancer that the doctor can measure on a scan
are active but might not be able to do heavy physical work (performance status 0 or 1)
have satisfactory results from tests showing how well your lungs work
have satisfactory blood test results
are willing to use contraception during the trial if you or your partner could become pregnant
are at least 18 years old
Who can't take part
You cannot join this trial if any of these apply. You:
have had chemotherapy or a targeted cancer drug  within 3 weeks of starting treatment 
have already had radiotherapy to the chest  
have had an experimental drug as part of another clinical trial within 28 days of starting treatment
have another cancer that your doctor thinks could affect the chemoradiotherapy  
have a problem with your digestive system  that could affect how well the body absorbs medication taken by the mouth
have lung tissue that is damaged or scarred
are taking certain medications unless you can stop taking them. Your doctor will know which medications and whether you can stop taking them. 
have high blood pressure that isn't controlled by medication
have had a heart attack or chest pain within the past 6 months. Or you have other heart problems . 
have a problem with the tissue surrounding the organs (connective tissue)
have hepatitis B, hepatitis C or HIV
have problems with your liver , gallbladder  or pancreas  
have any other medical condition or mental health problem that your doctor or the trial team thinks could affect you taking part
are allergic to atovaquone or any of its ingredients
are pregnant or breastfeeding
Trial design
This is a phase 1 trial. The team need 20 people to join.  
The first few people to join have a small dose of atovaquone. If they don't have any bad side effects the next few will have a higher dose. And so on until the researchers find the best dose to give. This is a dose escalation trial.   
The dose of atovaquone you have depends on when you join the trial. 
Atovaquone is a liquid. You take it twice a day once in the morning and then again in the evening. You take atovaquone with high fat food such as eggs, whole milk, cheese or fried foods. 
You have a syringe to measure out the dose. This will be either a teaspoon (5ml) or less. 
You start taking atovaquone 2 or 3 weeks before you start chemoradiotherapy. How long you take it for depends on when you start chemoradiotherapy. You continue taking it during your chemoradiotherapy.  
Chemoradiotherapy
Before starting chemoradiotherapy you go to the hospital for a planning appointment. This is so the doctor and radiographer can work out exactly where to give the radiotherapy and how much to give. 
You have radiotherapy once a day Monday to Friday for 6½ weeks. Each session of radiotherapy takes about 15 to 20 minutes. 
You have cisplatin and vinorelbine chemotherapy. 
You have cisplatin as a drip into a vein. You have it on weeks 1 and 4 of radiotherapy. 
You have vinorelbine as a drip into a vein. You have vinorelbine on weeks 1, 2, 4 and 5 of radiotherapy.
Research samples
You give blood samples during the trial. Where possible they will take these when you have your routine bloods taken. 
The team will also ask for a small piece of the cancer tissue from when you were diagnosed. 
They will use these samples to look at substances and changes in genes in the blood and tissue. These changes could tell them how well treatment might work. 
Hospital visits
You see the doctor to have tests before taking part. These tests include:
a physical examination
blood tests
test to see how well your lungs work 
Before starting your chemoradiotherapy you have 2 F-MISO PET-CT scans about 2 weeks apart. This is the same as having a PET-CT scan but you have an injection of radioactive dye called F-MISO. The dye highlights areas in the cancer that have low oxygen. 
You have the dye as an injection into the vein through a plastic tube (cannula). You then wait 4 hours before having the scan. During this time you are able to eat, drink and walk around. But you can't have friends or family with as you are slightly radioactive. 
For the scan you lie still and flat on your back on the table. The scan takes about 10 minutes. After the scan you can go home. But you are still radioactive. For 2 hours after the scan you must avoid close contact with pregnant women or young children. This is because you are still very slightly radioactive. Close contact is 1 meter or 3 feet. 
During treatment you see the doctor every week to see how you are and for bloods. 
After treatment you see the doctor at:
1 month
3 months
6 months
You have a CT scan or PET-CT scan at 3 months. 
 
Side effects
The trial team monitor you during treatment and afterwards. Contact your advice line or tell your doctor or nurse if any side effects are bad or not getting better. 
 
The common side effects of atovaquone are:
headache
sleeping problems
high temperature (fever)
an allergic reaction. Signs include wheezing, tight chest or throat, difficulty breathing, swollen eyelids, face, lips, tongue or another part of the body, hives. 
changes to blood test results such as low level of sodium and increased liver enzymes
a drop in red and white blood cells causing headaches, tiredness, shortness of breath and an increased risk of infection
We have information about:
Your doctor or a member of the trial team will talk to about the side effects of all the treatments. They will do this before you agree to take part. 
How to join a clinical trial
Please note: In order to join a trial you will need to discuss it with your doctor, unless otherwise specified.
Please note - unless we state otherwise in the summary, you need to talk to your doctor about joining a trial.
Supported by
Cancer Research UK
University of Oxford
MRC Oxford Institute for Radiation Oncology
Cancer Research UK Oxford Centre
Oncology Clinical Trials Office (OCTO) Oxford
Other information
This is Cancer Research UK trial number CRUK/18/015. 
CRUK internal database number:
Please note - unless we state otherwise in the summary, you need to talk to your doctor about joining a trial.
Around 1 in 5 people take part in clinical trials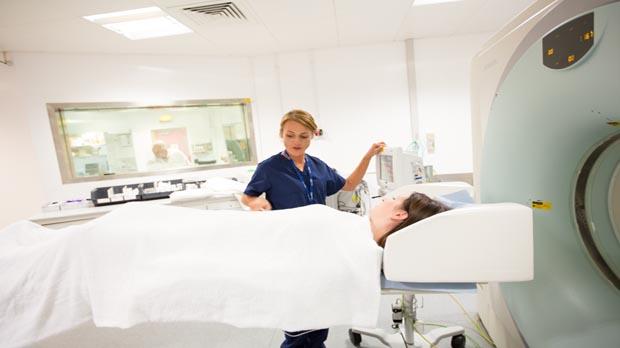 Around 1 in 5 people diagnosed with cancer in the UK take part in a clinical trial.