A trial looking at women who have immediate breast reconstruction after their breast cancer surgery (POBRAD-M trial)
Please note - this trial is no longer recruiting patients. We hope to add results when they are available.
This trial is collecting information about women who have immediate breast reconstruction after their breast cancer surgery.
More about this trial
Many women with breast cancer have an operation to remove their cancer. If you have surgery to remove your breast (mastectomy) your surgeon may talk to you about having a new breast shape made. This is called breast reconstruction. You have this done at the same time as your mastectomy, or at a later date.
There are different types of breast reconstruction. Depending on your situation, you may have reconstruction using your own body tissue, or an implant to replace some or all of your breast tissue. Or a combination of these 2 methods.
These different ways of breast reconstruction have been used for some years and are safe. But doctors would like to find out more about the advantages and disadvantages of each method and whether certain women suit one way better than another.
You will not benefit directly from taking part in this trial. But the results may be useful for surgeons and women in the future to help them make choices about breast reconstruction.
The aims of the trial are to learn more about
The side effects of different breast reconstructions, for example how many women develop an infection
The appearance of the reconstructed breast
How women feel about their surgery
Who can enter
You may be able to join this trial if all of the following apply.
This trial will include women who have a reconstruction using an implant or a reconstruction using body tissue, or a combination of both. But in order to take part in this trial your doctor must think that using an implant is a possible reconstruction option for you.
You cannot join this trial if any of these apply.
Your doctor does not recommend that you have immediate breast reconstruction
Your doctor thinks that reconstruction using your own body tissue is the only suitable way to reconstruct your breast or breasts
Trial design
The researchers need 267 people to join this trial.
Your surgeon will explain the different methods of breast reconstruction and you will have time to ask questions and discuss which method may be best for you. When you and your surgeon have agreed on the type of reconstruction, you have your breast cancer surgery as planned. This treatment would be the same whether you take part in this trial or not.
You have photographs taken of your breasts before surgery and about 1 year after reconstruction.  You would have these done as part of your treatment anyway and they are kept in your confidential medical records.  This allows the trial team to collect information about the appearance of your breast before and after reconstruction.
The trial team will ask you to fill out a questionnaire before you have surgery. This will ask you what you expect from your surgery and how you feel about your appearance.
You also complete a questionnaire 4 weeks after your surgery and again about a year later. This will be sent to you in the post. The questionnaire will ask about side effects and how you've been feeling. This is called a quality of life study.
A member of the trial team will telephone you about 4 weeks after your operation. They will ask how you are and whether you have had any problems.
Hospital visits
You do not have any extra hospital visits as part of this trial.  The trial team will see you and collect information about you at your routine hospital appointments.
Side effects
You do not have treatment as part of this trial so there are no side effects associated with taking part. It will involve some of your time filling in the questionnaires and talking to the trial team when they telephone you. The interview and each questionnaire take about 5 to 10 minutes.
We have more information about a mastectomy and breast reconstruction.
How to join a clinical trial
Please note: In order to join a trial you will need to discuss it with your doctor, unless otherwise specified.
Please note - unless we state otherwise in the summary, you need to talk to your doctor about joining a trial.
Supported by
Guy's and St Thomas' NHS Foundation Trust
King's College London
NIHR Clinical Research Network: Cancer
TEI Biosciences
CRUK internal database number:
Please note - unless we state otherwise in the summary, you need to talk to your doctor about joining a trial.
Caroline took part in a clinical trial for breast cancer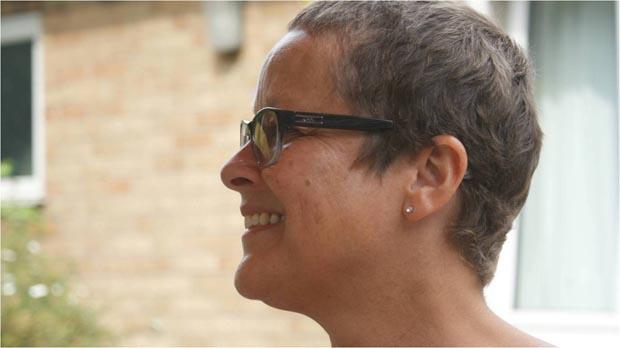 "I had treatment last year and I want to give something back."