A trial looking at different doses of Glivec for chronic myeloid leukaemia, with or without interferon (SPIRIT)
Please note - this trial is no longer recruiting patients. We hope to add results when they are available.
Cancer type:
Chronic myeloid leukaemia (CML)
This trial is comparing two different doses of Glivec (imatinib) and standard dose Glivec combined with interferon, to see which is the best treatment for people with newly diagnosed chronic myeloid leukaemia (CML).
Most people with CML have an abnormal chromosome

called the Philadelphia chromosome. For some time, doctors have treated this type of CML with a biological therapy called interferon. Glivec is a new drug. It has been approved in the UK as a first treatment after diagnosis, for people with Philadelphia positive CML.
Most people with CML respond very well to the standard dose of Glivec. But researchers think that a higher dose of Glivec, or Glivec and interferon together may be better at treating CML.
Please note, this trial has finished recruiting people into the Glivec and interferon group.
The aim of this trial is to find out
Which treatment works best for Philadelphia positive CML
More about the side effects of these treatments
Who can enter
You can enter this trial if you
Have CML which is Philadelphia positive
Have been diagnosed with CML within the last 3 months
Have chronic phase CML
Are well enough to take part (performance status 0,1,or 2)
Have satisfactory blood test results
Are prepared to use reliable barrier contraception (for example condoms) while you are taking part in the trial, if there is any chance that you or your partner could become pregnant
Are at least 18 years old
You cannot enter this trial if you
Have CML that has spread from your bone marrow to other organs in your body (this is called extramedullary disease)
Have had previous treatment for your CML, other than the drugs hydroxyurea or anagrelide
Have had a stem cell transplant in the past
Have had major surgery in the last 4 weeks or are still having side effects from previous surgery
Have had any other cancer in the last 5 years, apart from basal cell skin cancer or carcinoma in situ of the cervix
Have had any severe psychiatric illness or mental disorder in the past (depression, for example)
Have any other medical condition which is not under control with medication
Are HIV positive (you will not need to be tested as part of this trial)
Are pregnant or breast feeding
Trial design
This is a randomised trial. It will recruit 2,466 patients into 3 groups. The people taking part are put into a treatment group by a computer. Neither you nor your doctor will be able to decide which group you are in.
Everyone taking part will take Glivec tablets for 5 years, unless they have any problems. Some people will continue to take Glivec after the trial has finished. Your doctor will tell you more about this.
If you are in group 1, you will take 400mg of Glivec, once every day.
If you are in group 2, you will take 800mg of Glivec, every day. You will take this in 2 separate doses, one in the morning and one in the evening.
Doctors have finished recruiting patients into group 3. Patients in group 3 take 400mg of Glivec once every day. And have have interferon as an injection under the skin for 5 years.
The doctors may need to change the dose of Glivec or interferon that you take, if you have side effects.
You will fill in a questionnaire before you start the treatment, monthly for 3 months, and then at 6 months, 12 months, and yearly after that. The questionnaire will ask you how you are feeling and what side effects you are having. It is called a quality of life questionnaire.
Hospital visits
You will go to the hospital for some tests before you take part in the trial. These include
Physical examination
Bone marrow test (if you have not had one in the last month)
Blood tests
You will go to the hospital to see the doctors and to have a blood test
Every month for 3 months, then
Every 3 months for 9 months, then
Every 6 months for 4 years
The doctors will also do a blood test to see how many leukaemia cells are left in your body. They will do this every 3 months for the first year, and then every 6 months after that. You will also have a bone marrow test once a year.
Side effects
The most common side effects of Glivec are
Diarrhoea
Water retention (for example, swollen ankles)
Puffy eyes
Skin rash
Feeling tired
The most common side effects of interferon are
Flu like symptoms such as fever, chills, headache, aching muscles and joints
A drop in blood cells, causing an increased risk of infection, bruising or bleeding problems, tiredness and shortness of breath
There is more information about the side effects of imatinib and interferon on CancerHelp UK.
How to join a clinical trial
Please note: In order to join a trial you will need to discuss it with your doctor, unless otherwise specified.
Please note - unless we state otherwise in the summary, you need to talk to your doctor about joining a trial.
Supported by
Experimental Cancer Medicine Centre (ECMC)
NIHR Clinical Research Network: Cancer
Novartis
Roche
The Newcastle upon Tyne Hospitals NHS Foundation Trust
CRUK internal database number:
Please note - unless we state otherwise in the summary, you need to talk to your doctor about joining a trial.
Cara took part in a clinical trial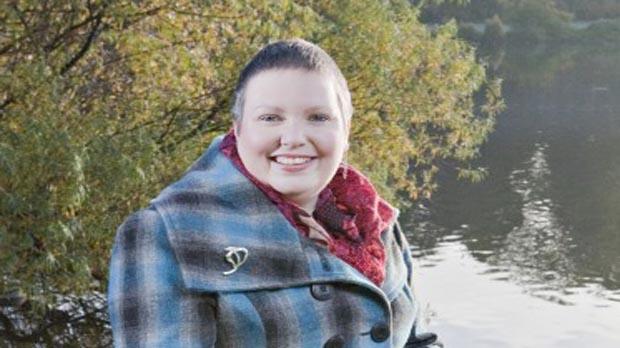 "I am glad that taking part in a trial might help others on their own cancer journey."