A trial looking at high dose chemotherapy and stem cell transplants for people with Hodgkin lymphoma (PAIReD)
Please note - this trial is no longer recruiting patients. We hope to add results when they are available.
This trial is looking at high dose chemotherapy and sibling or unrelated donor stem cell transplants for people with Hodgkin lymphoma. It is recruiting people whose lymphoma did not disappear completely after initial chemotherapy, or has come back and not fully responded to further treatment. This trial is supported by Cancer Research UK.
Doctors usually treat Hodgkin lymphoma that is no longer responding to chemotherapy with high dose chemotherapy and a stem cell transplant. They usually give people a transplant with their own blood stem cells that they took when there were no signs of lymphoma. This is known as an autologous transplant

. But even this may not help long term and the lymphoma is likely to come back or become more active over time.
Earlier trial results suggest that it might be better to give people a transplant using stem cells from their brother or sister or a matched donor who is not related to them. This is known as an allogeneic transplant

. Doctors think this may help reduce the chances of the lymphoma coming back. But they are not sure how well it will work.
The aim of this trial is to find out if a sibling or matched donor stem cell transplant is a useful treatment for people with Hodgkin lymphoma.
Who can enter
You can enter this trial if
You have been diagnosed with Hodgkin lymphoma
Your Hodgkin lymphoma didn't disappear completely after the first line of chemotherapy (you didn't have a complete response), or it did respond but came back later and you have not had a complete response to further (salvage) chemotherapy
You have a brother or sister who is suitable as a stem cell donor, or a matched unrelated donor
You are well enough to take part and to carry out all your normal activities apart from heavy physical work (performance status of 0 or 1)
You have satisfactory blood test results
You are between 11 and 65 years of age
You cannot enter this trial if
There is no sign of your lymphoma (a complete response) after 2 cycles of the same type of chemotherapy for Hodgkin lymphoma that had come back
Your lymphoma is getting worse despite treatment
You have already had high dose treatment or a transplant with somebody else's stem cells
You have kidney or liver problems
You have heart failure
You are pregnant or breastfeeding
You have serious breathing problems
You are HIV positive
You have had another cancer in the past 5 years apart from non melanoma skin cancer or carcinoma in situ of the cervix
You have any other serious medical condition that means you cannot take part in this trial
Trial design
This phase 2 trial will recruit about 32 people.
Everybody who takes part will have high dose chemotherapy and a transplant with stem cells from somebody else. They must have similar bone marrow to you. Some people in this trial will have a family member who is a match. If you don't have a brother or sister who is a match you will have a transplant from an unrelated donor.
Before your treatment begins you may have a central or long line put in. This makes it easier to give chemotherapy and take blood samples.
You will be admitted to hospital for one cycle of BEAM chemotherapy (carmustine, cytarabine, etoposide and melphalan) with Campath (Alemtuzumab). Campath is a monoclonal antibody. It attaches to lymphoma cells and can kill them. It also attaches to certain white blood cells in your body, reducing the risk of your body rejecting the transplant and of getting a side effect called graft versus host disease (GVHD). You have all of these drugs through a drip into a vein, over 6 days. You will then have your stem cell transplant.
The researchers may ask your permission to get a sample of your lymphoma taken when you had a biopsy

. They will study these samples to learn more about this type of lymphoma and how the treatment works. If you don't want to give these samples for research, you don't have to. You can still take part in the trial.
Hospital visits
Before you can take part in the trial you will have some tests. These include
Physical examination
Heart tests - an echocardiogram or MUGA scan and a heart trace (ECG)
Tests to see how well your kidneys are working
Blood tests
You will be in hospital for about 4 to 6 weeks to have your treatment. As you will be at a high risk of infection, you will be in your own room. This is called 'being in isolation'.
When you go home, you have to go back to hospital on a regular basis. To begin with, this will probably be once or twice a week. It is not unusual to have to go back into hospital for a few days at some point.
You will have a PET-CT scan after 3 months, 6 months, 1 year, 2 years and 3 years. You may have some extra blood cells from your donor after the transplant. This is called donor lymphocyte infusion or DLI. If you have DLI, you will need to have more PET-CT scans to see how much it helps you.
You will continue to see the trial doctor for regular check ups, at least every 3 months for 3 years.
Side effects
The most common side effects of BEAM chemotherapy and Campath are
A drop in blood cells causing an increased risk of infection, bleeding problems, tiredness and breathlessness
Feeling and being sick
Hair loss (alopecia)
Sore mouth
Loss of appetite
There is more information about BEAM chemotherapy and Campath in our cancer drugs section.
How to join a clinical trial
Please note: In order to join a trial you will need to discuss it with your doctor, unless otherwise specified.
Please note - unless we state otherwise in the summary, you need to talk to your doctor about joining a trial.
Supported by
Cancer Research UK
Chugai Pharma UK Ltd
Experimental Cancer Medicine Centre (ECMC)
NIHR Clinical Research Network: Cancer
University College London (UCL)
Other information
This is Cancer Research UK trial number CRUKE/09/005.
If you have questions about the trial please contact our cancer information nurses
Freephone 0808 800 4040
CRUK internal database number:
Please note - unless we state otherwise in the summary, you need to talk to your doctor about joining a trial.
Charlie took part in a trial to try new treatments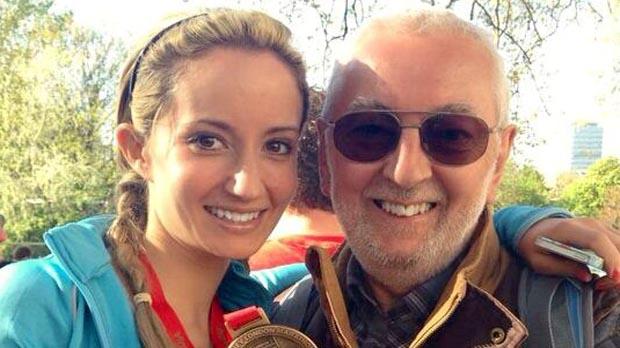 "I think it's really important that people keep signing up to these type of trials to push research forward."