A study looking at the needs of people with high grade glioma after treatment with radiotherapy
Coronavirus (COVID-19)
We know that this is an especially worrying time for people with cancer and their family and friends. We have separate information about coronavirus and cancer. Please read that information alongside this page. We will update that information as guidance changes.
Please note - this trial is no longer recruiting patients. We hope to add results when they are available.
Cancer type:
Brain (and spinal cord) tumours
This study is looking at the needs of people who have had radiotherapy for a type of brain tumour called a glioma which is grade 3 or 4. This is called a high grade glioma or HGG.
Doctors know that following radiotherapy for high grade brain tumours, some people can have both physical and emotional problems. They can affect your quality of life. This is a study to find out how radiotherapy affects people with HGG and what extra care and support they need.
The aims of the study are to find out
What support  is needed by people with HGG who have finished radiotherapy
How care can be improved in the future
You will not have any direct benefit from taking part in this study. But the results will be used to help people with HGG in the future.
Who can enter
You may be able to enter this study if you
Have high grade glioma and are having radiotherapy at the Beatson West of Scotland Cancer Centre in Glasgow
Are well enough to be up and about for at least half the day (performance status 0, 1 or 2)
Are at least 16 years old
You cannot enter this study if you are unable to understand written English.
Trial design
Everybody taking part in the study will fill out questionnaires
At the end of radiotherapy
Between 4 and 6 weeks after radiotherapy
3 months after radiotherapy
6 months after radiotherapy
The questionnaires will ask about your experiences and any support that was available to you. This is called a quality of life study.
Hospital visits
There are no extra visits for this study as you complete the questionnaires at routine hospital visits.
Side effects
The researchers do not expect there to be any side effects from taking part in this study. If you find it too upsetting to complete the questionnaires, the researcher will offer you further support if you would like it.
How to join a clinical trial
Please note: In order to join a trial you will need to discuss it with your doctor, unless otherwise specified.
Please note - unless we state otherwise in the summary, you need to talk to your doctor about joining a trial.
Supported by
NHS Greater Glasgow and Clyde
National Institute for Health Research Cancer Research Network (NCRN)
Questions about cancer? Contact our information nurses
CRUK internal database number:
Please note - unless we state otherwise in the summary, you need to talk to your doctor about joining a trial.
Rhys was only four years old when he was diagnosed with a brain tumour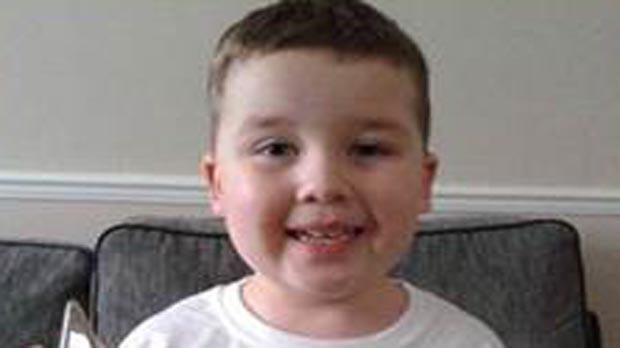 "He went through six operations and was placed on a clinical trial so he could try new treatments."