A study looking at a new test to find cell changes for people with Barrett's oesophagus (ACE-B)
Please note - this trial is no longer recruiting patients. We hope to add results when they are available.
This study is using a new type of endoscopy to find cell changes in people with Barrett's oesophagus.
This study is supported by Cancer Research UK.
More about this trial
Barrett's oesophagus
is a condition where the normal cell lining of the oesophagus (food pipe) changes. It becomes more like cells of the stomach or small bowel. 
Sometimes people with Barrett's oesophagus might develop ulcers, narrowing of the food pipe (strictures) and very rarely
cancer of the oesophagus
. Doctors regularly check the cells using a small camera on a thin flexible tube (endoscope) if you have Barrett's oesophagus. This is called an
endoscopy
. You normally have one every 2 to 3 years.
Researchers want to understand more about new ways of doing an endoscopy. They want to make it easier find those cell changes that might cause Barrett's oesophagus to turn into cancer.
In this study, the researchers are using two different kinds of endoscopy together. These are:
autofluorescence imaging (AFI)
probe based Confocal Laser Endomicroscopy (pCLE)
Usually endoscopes use a white light to show up areas of abnormal tissue. AFI looks like a standard endoscopy camera. But it also has a special filter to choose blue light and show up tissue changes that white light can't.
Researchers are also using a small microscope called pCLE (probe based Confocal Laser Endomicroscopy). pCLE is a special microscope that is passed down the endoscope, and helps doctors see changes to cells. The pictures they see are similar to pictures of tissue seen under a microscope in the laboratory. This allows the doctor to make a diagnosis similar to a diagnosis made with tissue samples in the laboratory. 
In this study, researchers are also studying samples of tissue (biopsies) taken during the endoscopy. They look for any cell changes that might lead to cancer. 
By comparing a standard endoscopy to the new test, the researchers hope that they can diagnose Barrett's oesophagus more easily. They are also looking at substances in the body that could tell how the condition is developing. These are called biomarkers.
The team are also interested in how people feel about having the test and if the new test makes them feel less worried.
Who can enter
The following bullet points list the
entry conditions
for this study. Talk to your doctor or the study if you are unsure about any of these. They will be able to advise you. 
Who can take part
You may be able to join this study if all of the following apply. You
have Barrett's cells that form at least a 2cm band around the inside of your oesophagus or have a patch of Barrett's cells at least 3cm long
have a referral from your GP or another doctor for an endoscopy in hospital
are at least 18 years old
Who can't take part
You cannot join this study if any of these apply. You
have inflammation of your food pipe (oesophagitis), grade B, C or D – your doctor can tell you if this applies to you 
have had surgery to remove part of your oesophagus
have an abnormal condition of your oesophagus such as a narrowing that makes swallowing difficult – you can check this with your doctor
have had cancer in the cells of the lining of the oesophagus (oesophageal adenocarcinoma)
have had abnormal tissue growth related to your Barrett's oesophagus which has been seen on an endoscopy
are allergic to the drug fluorescein (this is a yellow dye you may have put in your eye during a sight test)
have asthma that is severe or difficult to control
have a problem with how your blood clots, or you are taking tablets to prevent abnormal clotting, for example warfarin or clopidogrel, which cannot be safely stopped (talk to your doctor about this)
have severe disease affecting your heart or lungs
have liver disease
have a pacemaker or other electric device in your chest
Trial design
The researchers want 146 people to take part. 
Everyone has two endoscopies, these are:
the standard endoscopy
the new test
You have one at your first visit, when your routine check up for Barrett's oesophagus is due. The second one is 8 to 12 weeks later. This is so the team knows if the new test is accurate, when compared with the standard endoscopy.
Everyone is put into one of two groups at random by a computer.
Group 1
The people in this group have the standard endoscopy first and the new test 8 to 12 weeks later.
 
Group 2
Everyone in this group has the new test first and the standard endoscopy 8 to 12 weeks later.
Your endoscopies are carried out by a professional who has had specialist training (an endoscopist). The endoscopist doing your second endoscopy will always be different to the one doing your first one.
Having the standard endoscopy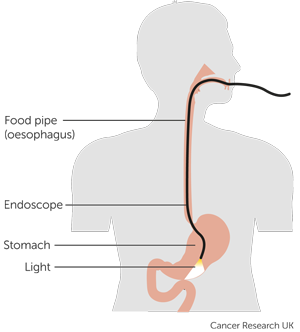 Your doctor looks at your oesophagus, stomach and part of your bowel (duodenum) using an endoscope. 
Your doctor or nurse will spray the back of your throat to numb it and make it easier to swallow the tube. You then lie on your side.
It takes a few minutes for your throat to go numb. Then the endoscopist passes the endoscope tube into your mouth and down your throat to the oesophagus. The tube is slightly bigger than a pen and will be uncomfortable but shouldn't be painful.
You can usually have the test while you're awake but you can choose to have a medicine to make you drowsy (a sedative).
You have biopsy samples taken of any abnormal areas and 4 random biopsies taken every 2cm. This aims to find any tissue changes at an early stage.
Having the AFI and pCLE endoscopy
This is a similar procedure to having the standard endoscopy. But the test also uses autofluorescence imaging (AFI) and pCLE. 
You have a drug called fluorescein as an injection into a vein. Fluorescein helps tiny structures show up clearly under the pCLE microscope. The endoscopist passes the pCLE microscope down the endoscope and looks again for cell changes.
You have biopsies taken from areas that look abnormal. Your endoscopist uses the AFI pictures to do this. Usually it's about 4 or 5 biopsies, or up to 8 at the most.
Samples
Your biopsy samples are looked at in a laboratory. Scientists look for certain proteins, which could show how your Barrett's oesophagus is progressing. This is called biomarker analysis.
You are asked to give permission for the biopsy samples to be stored and used for future research. You don't have to agree to this if you don't want to, you still have the tests in the same way.
Questionnaires 
The team asks you to complete 2 short questionnaires before and after each endoscopy. This is to find out about your feelings of anxiety or discomfort about the procedure.
This can help the researchers compare the two tests based on how people feel about having the test.
Hospital visits
You will need to make an extra hospital visit for your second endoscopy.
 Before your first endoscopy, a team member will measure:
your height
your weight
around your waist and hips
You usually have an endoscopy as an outpatient. You can normally go home the same day as your test.
You will need someone to go home with you and stay with you for 24 hours if you have had sedation.
There is no extra follow up appointments as part of the trial. After the trial, you see your regular doctors in clinic as usual.
Side effects
Possible side effects from an endoscopy include:
tearing the oesophagus lining
bleeding from the biopsy site
These side effects are rare.
Possible side effects of fluorescin include:
feeling or being sick
temporary yellowish colour of your skin and eyes - this should go within a few hours
allergic reaction (skin rash and itching)
A severe allergic reaction is extremely rare. You have treatment straight away if this happens.
How to join a clinical trial
Please note: In order to join a trial you will need to discuss it with your doctor, unless otherwise specified.
Please note - unless we state otherwise in the summary, you need to talk to your doctor about joining a trial.
Chief Investigator
Dr Massimiliano di Pietro
Supported by
Cancer Research UK
Experimental Cancer Medicine Centre
University of Cambridge
Cambridge University Hospitals NHS Foundation Trust
Cancer Research UK Cambridge Institute
CRUK internal database number:
Please note - unless we state otherwise in the summary, you need to talk to your doctor about joining a trial.
Charlie took part in a trial to try new treatments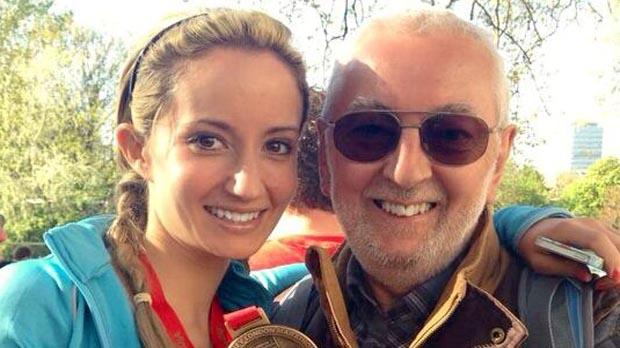 "I think it's really important that people keep signing up to these type of trials to push research forward."