A study of AZD8931 and paclitaxel for advanced breast cancer (THYME)
Please note - this trial is no longer recruiting patients. We hope to add results when they are available.
This study is looking at a new drug called AZD8931 for breast cancer that is locally advanced or has spread somewhere else in the body. It is for people who have low levels of a protein called HER2 on their cancer cells.
Doctors often use chemotherapy to treat breast cancer. One of the drugs they may use is called paclitaxel. Researchers are looking for ways to improve standard treatments

and in this study, they are looking at AZD8931 in combination with paclitaxel.
There are chemicals in the body that control cell growth. These are called growth factors. They work by attaching themselves to receptors on cells and sending signals to the inside of the cell. There are a number of growth factor receptors on breast cancer cells.
AZD8931 blocks the receptors for growth factors called EGF, HER2 and HER3. Cancer cells need these to grow. Blocking them may stop cancer growing.
The aims of this study are to
See if having AZD8931 and paclitaxel is safe and if it works better than paclitaxel alone for advanced breast cancer
Find out more about what happens to the 2 drugs in the body
Learn more about the side effects of this drug combination
Who can enter
You can enter this trial if you
Are female and have breast cancer that is locally advanced, or has spread somewhere else in your body (secondary breast cancer) and cannot be treated with surgery or radiotherapy
Have at least one area of cancer that can be seen and assessed on a scan
Are able to have paclitaxel
Have satisfactory blood test results
Are well enough to carry out all your normal activities, apart from heavy physical work (performance status of 0 or 1)
Have recovered from side effects of other cancer treatment (apart from hair loss), unless the side effects are very mild
Are postmenopausal or have had your womb or ovaries removed, or are willing to use 2 types of reliable contraception during the trial and for 3 months afterwards if there is any chance you could become pregnant
Are at least 18 years old
You cannot enter this trial if you
Have cancer that has spread to your brain and is causing symptoms
Have cancer with high levels of HER2, meaning a treatment such as Herceptin would be more suitable for you
Have already had treatment that targets the ErbB1 or ErbB2 proteins such as Herceptin or lapatinib
Have already had chemotherapy for locally advanced or secondary breast cancer
Had a taxane drug before or after surgery to remove your primary breast cancer if it was in the last year
Have had any other cancer treatment in the last 2 weeks (6 weeks if you had mitomycin or one of a group of drugs called nitrosureas)
Have had an experimental drug as part of another clinical trial in the last month, or longer if there is any chance some of the drug could still be in your body
Have started taking drugs called bisphosphonates in the last 5 days (you can join the trial if you have been taking them for longer and the dose has not changed in the last month)
Have had radiotherapy to more than a fifth (20%) of your bone marrow (your doctor can advise about this)
Have had another cancer in the last 5 years apart from carcinoma in situ of the cervix
Are known to be sensitive to paclitaxel or AZD8931
Have heart pain (angina), heart failure, high blood pressure that cannot be controlled with medication, or any other heart problems that are a cause for concern
Have weakened immunity
Have had periods of dizziness or fainting for no obvious reason
Have a skin condition such as acne, psoriasis or bad eczema
Have had an eye injury or surgery to your eye in the last 3 months, or have ever had radiotherapy to the eye
Have eye problems including a condition where you don't have enough tears 'dry eye syndrome' or any other problems with your eyelids or eyelashes
Have certain types of lung disease, or any other disease or medical condition that would affect you taking part in the study (the trial doctor can advise you on this)
Are taking certain drugs for heart problems, or any sort of medicine for eye conditions, including drops and ointments (the trial doctor can tell you more about this)
Need to carry on taking certain medications that can affect body substances called CYP enzymes (It is important that you don't stop taking any medication without talking to your doctor)
Cannot swallow or absorb medication for any reason
Are pregnant or breastfeeding
Trial design
This is a phase 2 trial that will recruit about 166 people. It is a randomised trial. The people taking part are put into treatment groups by a computer. Neither you nor your doctor will be able to decide which group you are in. And neither of you will know which group you are in. This is called a double blind trial
There are 2 treatment groups. People in group 1 have paclitaxel through a drip into a vein once a week for 3 weeks, followed by a week without treatment. Each 4 week period is called a cycle of treatment. They also take AZD8931 tablets twice a day every day.
People in group 2 have treatment in the same way, but instead of having AZD8931, they have dummy tablets (placebos

) twice a day every day.
People in both groups can have treatment for as long as it is helping.
You will stop having paclitaxel if the study doctor thinks it is no longer helping you. You can continue to have AZD8931 (or dummy tablets) for as long as this helps you, either in combination with the paclitaxel, or alone if the paclitaxel is stopped early.
If the AZD8931 (or placebo) is no longer helping you, or you have bad side effects, you may stop taking the AZD8931 but continue to have paclitaxel.
The researchers will look at a sample of your cancer tissue removed during earlier surgery, and they will take some extra blood samples. They will study these samples to look for biomarkers. These are substances in the body that doctors can measure to help them tell how a disease is developing or how a treatment is working. They hope that in the future, biomarkers may help them to work out who is most likely to benefit from having the combination of AZD8931 and paclitaxel or similar drugs.
You will give a number of blood samples during the trial that the researchers look at to see what happens to the drugs in the body. This is called pharmacokinetics

.
The study doctors will also ask your permission to take an extra blood sample to learn more about the role genes play in breast cancer and its treatment. You do not have to give this blood sample if you do not want to. You can still take part in the main study.
The trial team will ask you to fill out a questionnaire
Before you start treatment
At the beginning of each treatment cycle while you are having paclitaxel
Every 8 weeks after you finish treatment
The questionnaire will ask you about any side effects you have had and about how you have been feeling. This is called a quality of life study.
Hospital visits
You will see the doctors and have some tests before you start treatment. The tests include
Physical examination
Eye tests
Blood and urine tests
Heart trace (ECG )
Heart ultrasound (echocardiogram ) or MUGA scan
You go to hospital 3 times in each cycle of treatment. If you stop having paclitaxel but continue having the tablets, you then go to hospital every 8 weeks
During the trial treatment you have
Regular blood and urine tests
A CT or MRI scan every 8 weeks
An ECG every 4 weeks during the first 6 months of treatment, then every 8 weeks after that
An echocardiogram or MUGA scan after 3 months and then when your doctor thinks it is necessary and when you stop treatment
After you finish treatment, you go back to see the trial doctor as soon as possible. A month after you finish treatment a member of the trial team will contact you by phone to see how you are. After that, a member of the trial team will contact you by phone every 8 weeks to continue to check how you are.
If you stop treatment for any reason other than your cancer getting worse, the trial team will ask you to go back to have a scan and see them every 8 weeks until your cancer gets worse. After that, a member of the team will contact you by phone every 8 weeks to check how you are.
Side effects
As AZD8931 is a new drug, there may be some side effects we don't know about yet. From earlier trials, we know that possible side effects include
Rash or skin reactions
Changes to the heart such as an irregular heartbeat
Eye problems including sore eyes, blurred vision and redness
Sensitivity to sunlight
Damage to the lining of the bladder or kidneys
A drop in blood pressure that can cause dizziness or fainting
An increase in the amount of sugar in the blood
The side effects of paclitaxel include
A drop in blood cells causing an increased risk of infection, bleeding problems, tiredness and breathlessness
A build up of fluid in different parts of the body
Sore mouth
Numbness and tingling in hands and feet (peripheral neuropathy)
Pain in the joints or muscles
There is more information about the side effects of paclitaxel on CancerHelp UK.
During the study, and for 3 months afterwards, you must use sunglasses and sunscreen with UVA and UVB protection and a sun protection factor (SPF) of at least 30 if you go out in the sun. You must not use sunbeds or tanning booths during this time.
If you wear contact lenses and notice any eye problems during the trial, you must stop wearing your lenses. You shouldn't start wearing them again until at least a week after any problems have got better. You shouldn't use any eye drops or ointment unless they are prescribed by the trial doctor.
You must not eat large amounts of some foods such as grapefruit during the trial. And you must avoid some other drugs and herbal medicines. The trial doctor will tell you more about this.
How to join a clinical trial
Please note: In order to join a trial you will need to discuss it with your doctor, unless otherwise specified.
Please note - unless we state otherwise in the summary, you need to talk to your doctor about joining a trial.
Supported by
AstraZeneca
Experimental Cancer Medicine Centre (ECMC)
NIHR Clinical Research Network: Cancer
If you have questions about the trial please contact our cancer information nurses
Freephone 0808 800 4040
CRUK internal database number:
Please note - unless we state otherwise in the summary, you need to talk to your doctor about joining a trial.
Caroline took part in a clinical trial for breast cancer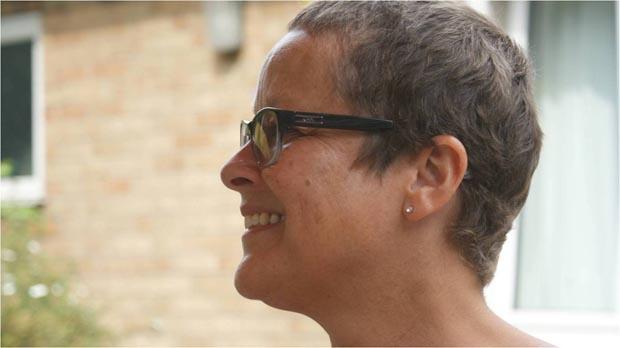 "I had treatment last year and I want to give something back."